~Flutter Shot~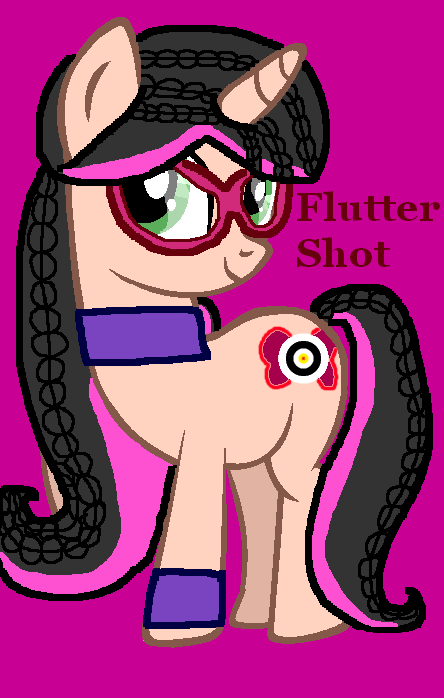 Gender: Girl
Species: Unicorn
Mane: Long ponytail, with braids; black and pink
Tail: same as mane
Eyes: Green
Body: Natural
Cutie Mark: A target with butterfly wings
Age: 18
Personality: Happy; always has something good in mind; more social than her twin, but still not too social; dreams of becoming an Equestrian games archer for any town; needs glasses to see; fusses with her mane when nervous; can be really brave at times, but starts off as a worry-wort; doesn't like to talk about her past, because of past; Bisexual
Likes: Archery; the Equestrian Games; Ice Cream; her twin; braiding manes/tails; small competitions; getting to know and make new friends
Dislikes: Jerks; snobs; pranksters; sore losers; remembering her past; being crowded; being interrogated
~~~~~~~~~~
History: Born in Canterlot, is one of twin daughters of two Royal guards. Mother was a night guard, and father was a day guard. She grew up with lots of discipline, but that just made her understand how much she would need her sister. Father went missing in the Everfree, and their mother was released from her job so that she could raise them. Was only 6 at the time. She absolutely loved to practice archery, which she learned at a summer camp they went to so that their mother could still be a royal guard. Around the age of 13, they were alone most of the time. She hardly saw her mother after an indecent that occurred with her grandmother when she was 16. Their mother died on the way back from her grandmother's. She, alongside of her sister however, continued trained with the royal guards who were wonderful archers. She used to travel around to find the calmest town to live in. Three weeks after living there, Blue Arrow, her twin sister, left because Ponyville wasn't for her.
She got her Cutie Mark within a day of her sister. Flutter received her's after saving a bunny from a hunter by archery. She has a bow, which is a light pink-and-green. Flutter Shot's quiver is a light pink.
~~~~~~~~~~~~~~~~~~~~~~~~~~~~
Example RP segment: 3(It is pouring rain outside. Flutter Shot spots the light of a tavern up ahead. The tavern is filled with ponies that she don't know.)
"Hurry, Flutter!" Blue Arrow called. She glanced at her twin, who was already soaked.
"I'm hurrying, Arrow!" Flutter Shot cried over the loud rain-pour. She was cold, soaking wet, tired, and hungry. But no complains came from the tan unicorn's muzzle. She never wanted to even be near a cave, or a tavern as her twin corrected her so many times on, but it was going to be dry.
Hope the ponies in there can spare some room for two more.
she thought as she caught up to her sister and made a mad dash with her to the light. When they arrived, Flutter was happy. There was a group of ponies there, like she had thought.
There were two light blue Pegasi, a violet unicorn, a blue unicorn, and a crystal teal earth pony. There was also two earth ponies, who looked like they were clones of each other. One was green, with a pink mane and tail. The other was pink, with a green mane and tail. The shades of green were the same, just as the shades of pink were.
"Um... Hello." her sister started. "I'm Blue Arrow and this is-"
"I'm Flutter Shot" Flutter interrupted her sister. It was a common thing for them. Flutter said her name, and Arrow said hers. They would never introduce the other for them with out good reason.
"Hi." said one of the Pegasi. "Got caught by the storm, too, huh?" The accent was somewhat thick, a Manehatten one for sure. The hooded Pegasus smiled. "Names Starflower. Hey, gang, introduce your-self's."
"My name is Lunar Sapphire" the blue unicorn said, a slight annoyance in her voice.
"My name is Periwinkle Book." the crystal pony gleamed in the firelight.
"Thundersong Nachtlied. Pleasure to meet you two." the other Pegasus said. She didn't look at them, but she still held power in her voice.
"I'm Yang..." the green earth pony said as she glanced at the pink earth pony next to her.
"And I'm Ying." the pink pony said.
"We're twins, too." they said in unison.
"How did you... How did you know that?" The mares giggled, but said nothing.
"My name is Amethyst Gleam" the last pony said. She looked a bit confused as well, but not as much as the two archers were.
The archers looked at each other having a long eye chat. The last part of their chat was:
This is going to be a long storm, huh?
Definitely.
Good Luck, Arrow.   Thanks...

Then they joined the rest of the mares.
_____________________________________________________________
(her is the Equestria Girl forms. Made on StarSue.net)
Flutter Shot: