Heart Shade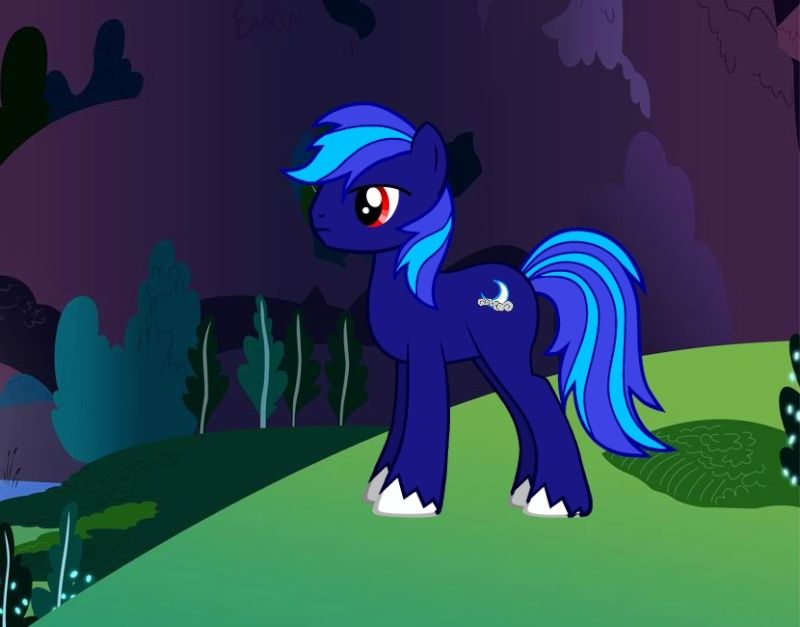 Gender: Male
Species: Earth Pony
Mane: Two shades of blue lighter than his coat and each other
Tail: See mane
Eyes: Red
Body: Midnight blue
Cutie Mark: Clouds over a crescent moon
Age: Adult
Personality: A little reserved, Heart Shade has never really been good at socializing with other ponies, not for lack of trying mind you.  He's just a little awkward, a little off putting, his bluntness often leading to hoof in mouth disease, bruised egos and the occasional case of ruffled feathers.  Still, he's always willing to try, to make an effort of things and, should anypony need it, lend a helping hoof.    
Likes: A nice, hot cup of tea, watching the sunset turn into the moonrise, honesty and the feeling he gets when he can help somepony out with their problems.
Dislikes: Feeling so awkward all the time, standing on the sidelines, feeling helpless and cold tea.  
History:  Heart Shade has been a restless spirit since he was old enough to know what that meant, always wanting to see what's over the next hill, behind the next tree, in the next cave and what the next day would bring.  As such he discovered his special talent when, while wandering through the Whitetail Wood, he found somepony's locket.  It turned out that the owner of said locket had lost it during the last Running of the Leaves and was quite happy to have it back.  Though he didn't know it at the time, the crescent moon partially covered by clouds symbolized his talent for finding that which is lost, from objects to ponies to, well, just about anything.  And even now he doesn't realize the hidden aspect of it.  Because everypony needs a helping hoof in the darkest of times, otherwise how are they going to find the light?  Since he turned old enough to leave his home in Ponyville Shade has been wandering Equestria and beyond, becoming an adventurer of sorts as he explored the land.  He's even accidentally made a couple of contributions to the archeological society of Canterlot University due to the discovery of ruins from before Equestria was founded as a nation.  But now he wants to finally settle down back in where it all began, unaware of most of what has transpired over the years, having been overseas exploring the homeland of the gryphons.  Will he be allowed to live a quiet life now that his adventuring itch has been scratched?  Only time will tell.
Example RP segment: Heart Shade had been idly wandering the streets of Baltimare, having just gotten off the boat returning from the gryphon lands, saddlebags heavy with souvenirs and other various items that he'd picked up during his travels.  One of the items in question had gotten him stopped at customs, a genuine gryphon steel sword.  It had been taken for inspection, his permits and proof of Equestrian citizenship looked over carefully, before it was returned to him peace bonded with a warning not to unsheathe it in public.  Shade couldn't help snorting and rolling his eyes at the memory, finding it absolutely ridiculous.  He wasn't a colt in need of lecturing, he knew it wasn't a toy.  Though he had to admit that it was really, really cool.  Shaking his head, the Earth stallion making his way in search of a place to get something to eat, the food on the ship having been less than appetizing to somepony who wasn't interesting in carnivorous cuisine.  Of course all his plans hit a brick wall when he heard a foal's crying, ears flicking and head turning in search of the source.  Sitting near a small alleyway was a little Unicorn filly with a green coat and white mane, sniffling and looking rather lost.  Shade sighed, smiling ever so slightly as his stomach grumbled in protest, promptly telling it to shut up as he trotted over to see if he could help.  
"Hey there," he said softly in greeting, his smile widening in what he hoped was a friendly way, wanting to put the filly at ease after all.  "What's wrong?  You're not hurt are you?"  The filly shook her head, sniffling some more and glancing up at him nervously.  "Hey, it's okay now.  I just wanna help, I promise."  She seemed to be sizing him up for a bit, not all that surprising considering he was a total stranger, before standing and wiping at her eyes with one foreleg.
"I-I can't find my mom," she told him finally, giving a little hiccup as she tried to swallow a fresh batch of tears.  "Sh-she just...I was looking at one of the stalls and she was next to me and she...she was gone."  Shade wanted to give the filly a hug because of how miserable she looked, barely restraining the urge due to the fact she might not like being touched by somepony she doesn't know.  "N-now I can't find her anywhere!"
"Hey, hey, shhh, it's alright," Shade hushed her, the filly having been about to start crying again.  "Come on, nopony ever found anything sitting around feeling sorry for themselves."  She let out a cute squeak as he bodily picked her up with his mouth and plonked her onto his back, the Earth stallion trotting off in search of her mother.  "Hmmm, let's see now...I know."  He had spotted a stand selling cabbages, cantering over to it and jumping on top, knocking a dozen heads off to the dismayed cry of: "My cabbages!"  He ignored the pony running the stall, looking over the crowd and clearing his throat.  "Excuse me everypony!"  He shouted to them, turning more than a few heads as he turned so they could see the little filly on his back.  "I know you're all busy, but I'm trying to find the mother of this little filly and was wondering if any of you fine ponies has seen her."  The ponies looked around, as if trying to see somepony resembling the filly, when a cry went up from further back, the crowd parting to show a Unicorn mare running towards them, Shade grinning as the filly jumped down from his back, then off the stall and ran up to her, feeling good about himself.  That's when somepony tapped his right foreleg, the stallion looking down to see a very disgruntled looking cabbage stall owner.
"Hey, pal, who's gonna pay for the produce you just ruined?"  The dirt brown Earth stallion demanded, causing Shade to chuckle nervously, a dusting of pink gracing his cheeks as he looked over the cabbages he had displaced in his rush to help the filly out.
"Oops."  
Acceptance