Electric Blaze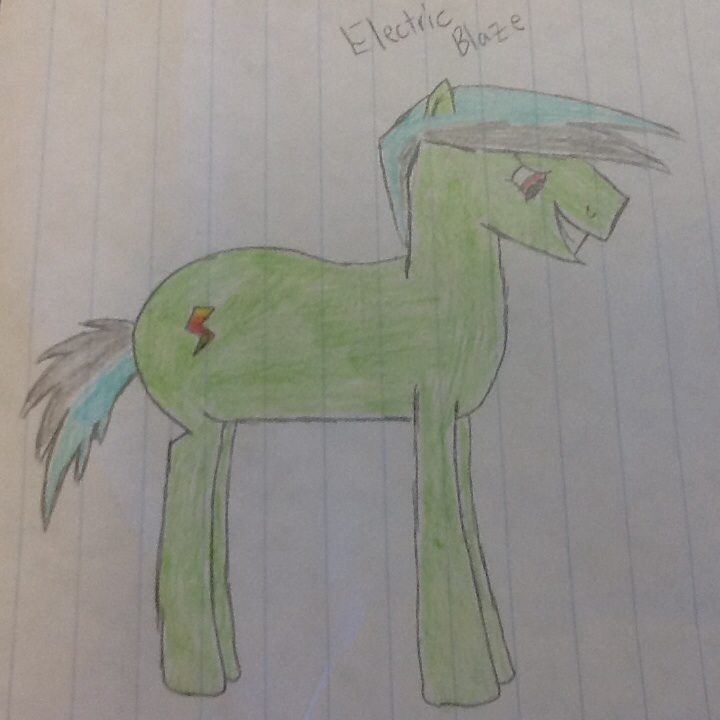 Gender: Stallion
Species: Pegasus
Mane: Two big frontal spikes, half aqua green and half grey
Tail: shaggy downward, also aqua green and grey.
Eyes: Red
Body: Yellow-Green
Cutie Mark: A thunder bolt, colored like a fire for most of it, with a section of camo on the bottom
Age (Baby,adult):Adult, about 23 human years.
Personality: He acts mature, though he is still young, but still knows how to handle and give a good joke. Problem is you can never really tell when he is joking and when he is serious, do to the fact that he sounds the same either way. He was never really good with people, he depended on his brother for that, and will sometimes avoid conversation if possible.
Likes: Electronics, Fireworks, Math, Traveling, and cupcakes
Dislikes: Ponies, Muffins, Reading, Daytime and Cider.
History: Electric Blaze was born in Ponyville a couple of years after his brother Forest, and always would be found near him. The brothers would go everywhere together, in fact, they had to delay Forest's schooling do to the fact that Electric would follow him, even if Forest tried to lose him. 
 When Electric started school, he was automatically amazing at math, and was doing math in his free time. This caused him to be rejected by the others since all they wanted to do was play. His brother Forest was always there for him, and even made problems for Electric to solve.
 Once the brothers finished with school, they decided to preform some experiments, using different materials to make a reaction. During this Electric wired something to a container containing different plants, then flipped a switch, causing the container to shoot out a colorful ball of fire into the sky. At the same time both the brothers got there cutie mark, and decided to make fireworks. 
Example RP segment: (#4)
 The Blaze brothers were walking down the street, cart behind them, when they were stopped by a police officer.
 " Freeze! " the officer said, " Don't move."
 "What seems to be the problem officer?" Forest asked.
 " You have a weapon in your possession that was used in a recent robbery, now put it down and nobody gets hurt." The officer said, preparing some magic.
 "But why would we need to rob a bank?" Electric asked, a bit of confusion in his voice.
 "Electric is right," Forest continued, " why would to fireworks salesponies need to rob a bank,"
 "Why would two firework salesponies have a weapon on them," the officer asked, a bit calmer seeing the ponies seemed to not be a threat, but he still kept his magic ready.
 "Where is this weapon?" Electric asked Forest.
 "I think he is talking about this thing that someone left on our cart," Forest said, lifting up a small blade. "Is this the weapon?"
 "Yes, yes it is, and you say you two found it on your cart?" The officer asked.
 "Why yes, we were on our way to get our cart fixed, this blade left a nasty gash on the wood." Electric said.
 "Well, if you could hand it over them." The officer said, "then you two can be on your way."
 "Well, here you go," Forest said, handing the officer the blade, "and could we inquire wether you would like some top class fireworks,?" Forest asked, going into a sorta sales mode.
 " You can not,  I have to continue my chase and do not have time to." The officer said, before heading off toward the police station.
[Acceptance]