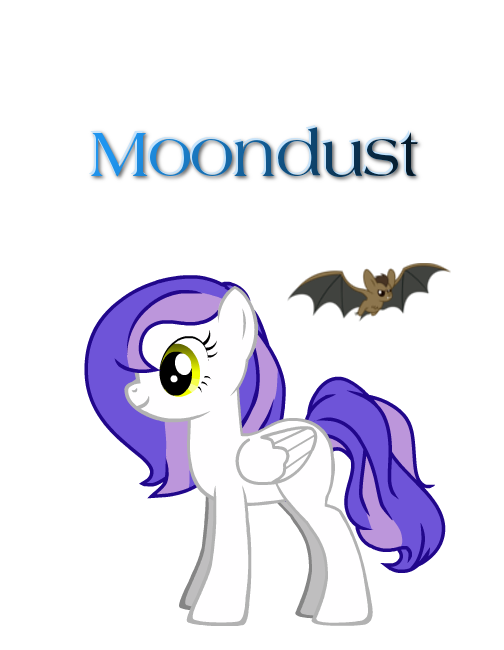 Name:
Moondust (Dusty for short)   
Gender:
Female   
Species:
Pegasus   
Mane:
Her mane is slightly wavy and consists of a blend of different shades of violet.    
Tail:
Having the same coloration as her mane, her tail is also wavy.  The length is on the longer side.    
Eyes:
Moondust is blind in one eye, making its color much more pale than her other bright yellow eye.    
Body:
Her coat is solid white, resembling the brightest of moons.    
Cutie Mark:
A yellow moon surrounded by darker clouds.   
Age (Baby,adult):
Young adult    
Personality:
Moondust is an investigator. She is curious as can be about nearly anything, but what spikes her interest the most is myths and legends.  She knows most of those 'old pony tales' are actually true, and she is interested in learning about them.  Though she isn't much into reading those dusty old books, she is more into the adventure part of it.  She will go and find clues about these legends to prove their existence, then record her findings. As a matter of fact she makes a living off of this, it is her occupation, best of all she enjoys doing it.   Though she keeps most of this secretive unless someone is willing to trade her bits for information on her findings.  She doesn't have much of a social life and likes to work alone.  She mostly tries to ignore other ponies and views company as nothing more than a distraction from getting her work done. She is pretty good at what she does, though sometimes will act before thinking, often getting herself into dangerous situations.
Moondust is a skilled flyer.  No, she is not the fastest, but is gentle. When airborne she is able to fly through the sky without a sound, and is good at avoiding obstacles and doing tricks in the air. She has an overall quiet nature and is able to maintain that silence through dangerous situations, helping her with escaping without being noticed.  She much prefers not to talk to other ponies unless it is necessary, and may even come across as shy.  Though in reality she could care less about other ponies opinions of her, she decides not to talk much because she finds it pointless most of the time.
When she does talk to other ponies, she may often appear full of herself. She is proud of what she does, and what she has accomplished, and when she has to talk to other ponies she likes to brag.     
Likes:
Adventure
: Moondust lives for the trill of adventure.  She enjoys traveling into the unknown and finding new things. She will go through many dangerous obstacles simply to get to the other side.
Stargazing
: Despite her love for adventure, sometimes moon dust likes to take a break and relax.  The stars in the night sky are always so beautiful, and are even known to grant wishes. Moondust will often wish upon stars the shoot across the night sky.
Midnight
: Her pat bat.  Though she does not like the company of other ponies much, her bat can always be found by her side.  Midnight often helps her on adventures, and can get into places a pony could not reach, which often helps her on her missions.
Mysteries
: Moondust is a problem solver, she has always been good at figuring out puzzles ever since she was a filly.  As she has grown older her knowledge has only expanded even farther.
Myths
: There is always a little bit of truth in every fairytale, It is Moondust's job, as well as hobby, to find that truth. Whether it would bring her face to face with monsters, or finding long forgotten artifacts.  
Nature
: Moondust has always liked being around nature. Rather than hanging around town, she would rather be in a forest, where less ponies are around to bother her.    
Dislikes:Loud noises:
Loud noises are not only annoying but are distracting to this pegasus.  Moondust much prefers things quiet, part of the reason why she keeps to herself.
Crowds:
what good could possibly come from a huge crowd of ponies? you get squished and pushed around. Not to mention the chitter chatter of all of the ponies can get quite loud.
Cities:
Cities are filled with both loud noises and crowds.  It is hard to walk through the city without bumping into at least a few judgmental ponies. Not to mention the city life can make ponies quite selfish.
Distractions:
Moondust likes to get her work done as fluently as possible.  Distractions only get in the way of that.  Distractions can come in many forms anything from noisy ponies trying to make conversation, or the quietest of insects flying around in view.
Bright lights:
Much preferring the peacefulness of the night, Moondust has never taken a liking to bright lights, such as the sun.  Though she prefers not complete darkness, but a dimly lit room is nice.    
History:
Cutie mark story:
The sound of pouring rain echoed in the young pegasi's eardrums.  She was soaked from this storm that would never seem to end. Only to make things worse the sound of thunder creaked through the air. With a shriek the filly went running. Her hooves carried her across the soggy ground at a fast pace. "Mother!? Father!? where are you!?" she cried out as she continued to gallop through the darkness of the night.
"Moondust, Moondust!!" The sound of her mother began to comfort her, and she continued towards the voice.  "Mother!!" Moondust shouted as a pure white pegasus came into view.  She quickly jumped into her mothers arms and snuggled against her chest.  "Where is father?" she asked nervously.  "I don't know, but we will find him, don't worry sweetie" The soft voice of her mother was soothing, and finally the filly began to relax.  
"This way, I found a cave, It is at least dry there." The mother nudged the filly in the direction of a large cave.  It was dark, who knew what lurked inside, but at least she was no longer alone and had the comfort of her mother, who began to stroke her fur holding her against her chest once again. The shadows wrapped around the filly like a blanket, and her eyelids fluttered shut.  Finally she began to drift off to sleep.
Not surprisingly she dreamed about the situation that has just occurred, though it was more of a nightmare than a dream. It was supposed to be a nice, relaxing, camping trip with her parents. She had always wanted to visit Foal Mountain. She had heard so many stories about the place.  One in particular sparked her interest.  It has been said that there is a small insect called a lunar bug that lived somewhere up in foal mountain.  They are known to bless foals with nice dreams.  However they can only bless foals who are able to find them.  She was always told they did not actually exist, and it was just a story.  Though something in her heart told her to believe.  
It had been a hike to get this far up in the mountains, but the view was breathtaking.  The stars twinkled above the three ponies in the endless black sky, and the atmosphere was wrapped in the subtle glow of the moon. It was the first time Moondust had ever experienced anything like this, though soon it started to rain. It was time to enter the tent her parents had set up for them to sleep in so they did not get soaking wet.
Once inside it was not long until the filly was asleep, it had been a long and tiring day of hiking though the smell of smoke woke her up.  She opened her eyes to see bright flames rapidly spreading towards her.  The tent had been struck by lightning, and she did not know what else to do but to run out of the tent and deep into the surrounding woods. Now she realized she had lost sight of her parents, and had no idea if they had been trapped in the fire or not. Nervously she began to call out for them.
That is when Moondust awoke once again, still in her mothers arms.  Blinking several times her eyes began to adjust to the darkness of the cave.  "Can we go searching for daddy?" she asked.  Her mother nodded.  The rain had finally began to lighten up, it was an okay time to head outside.
The two ponies stepped out of the darkness and into the dim moonlight.  They began their search, and they searched for hours.  Right when they were about to give up, Moondust spotted something... small twinkling lights that would glow through the darkness that much resembled stars. Though they found they where actually insects.  "Lunar bugs!"the two ponies stared in amazement, and soon Mooondust's flank was no longer bare. Though she was never able to find her father, from then on she was blessed with dreams about him.  She could still spend time with him in her sleep.
Other history:
Moondust was born to two loving parents in the city of Manehatten.  Her mother was a pure white pegasus that went by the name of Winter wishes.  Her father was a lavender colored stallion by the name of Astral.  They where a  wealthy family that had a large house in the city.  Moondust was a beautiful white filly with lavender mane and tail, and one bright yellow eye.  The other however was a pale white.  It was soon found out she was blind in that eye.  Despite her handicap she seemed to get around just fine.
Growing up Moondust was lonely. While her parents cared much for her, they were out working most of the time leaving Moondust with a foalsitter who payed little attention to her.  Most of the time Moondust would play with her toy dolls in her room, but rather than dressing them up all fancy and pretending to have them go on a mall trip like other fillies, she would put them through dangerous obstacles and adventures.  
At night, Moondust always looked forward to a bedtime story.  Her mother and father would take turns, switching who would read them every night.  While she still liked the usual fairy tail as much as the next foal, she enjoyed legends and folklore the most.  When she was old enough to start school, her parents hired her a private tutor, taking away many social opportunities. Though the tutor was kind, and Moondust much preferred learning from the comfort of her own home.
She also really loved nature and the outdoors, and loved to go camping with her mother and father, one time going camping on foal mountain.  She would never forget that fateful day that their tent caught on fire.  Even though she got her cutie mark, she would always look back on that day in misery, as it was the day she lost her father.
From that day on her mother raised her alone. She was not able to sustain enough money to keep the house, so they had to move out of the city to a small town known as Ponyville.  It was the first time Moondust had to go to a public school, and she hated it.  They were always so loud and never seemed to pay attention to the lessons.  It was hard for Moondust to concentrate and learn. Not to mention other foals would make fun of her because of her blind eye. Though there was one thing Moondust did enjoy about Ponyville, the nature that surrounded it.  Everything from the Everfree forest to the nearby mountains, she loved to explore it all and it kept her from slipping into a deeper depression.  
As she grew older she decided she was going to be an investigator.  Soon she started her own career, and when she got enough money she moved out of the house to one of her own, though she decided to stay within Ponyville.     
Example RP segment:
(Option 1)  Ivory feathered wings lightly flapped the weight of the pegasus above the ground. Dusk had struck Ponyville, leaving the sky in a blend of many colors as Celestia's sun began to disappear behind the mountains. Though the view was hard to see because of the fog building up along the streets. The bits of fallen cloud swirled in the air, covering the visible atmosphere in white. It was becoming more likely Moondust would fly into something while she couldn't see more than a foot ahead of her. She swooped down, landing gently on the ground and began to trot the rest of the way home. Though she stopped short at the sound of a foal sobbing.  She continued towards the sound until a young colt was in view. Moondust sighed... how annoying.  Can't parents keep their youth under control nowadays.  Giving another glance at the foal, she noticed that neither of his parents where in view. The colt was too young to be out on the streets alone, especially at this hour. Most likely he had got separated from his parents.  
Moondust debated in her head as to what she should do.  Weighing out her options, she decided to approach the foal. "Excuse me... are you lost?" she asked.  The colt slowly nodded his head in response. The pegasus glanced around her, nopony else seemed to be in view.  "Come with me, I will help you find your parents" she glanced back at the foal before scooping him up and placing him on her back. "Where was the last place you saw them?" The colt was silent for a moment. "um... near Sugarcube corner.  We had just bought some cupcakes when the fog hit.  I followed my mother out of the building, but when I got outside it was hard to see.  There were so many other ponies around and I couldn't tell which one was her in the fog.... I thought I had found her and followed, but turns out it was the wrong pony.  Now I don't know where I am or how to get home."
Moondust nodded.  "Luckily, Sugarcube corner is not too far from here. Most likely your mother would not have left the area without you." She began to walk still carrying the foal on her back. As they got near Sugarcube corner they could hear a mare's voice calling out "Thunder! Thunder?" Moondust looked at the foal "That your name kid?" The colt smiled, "Yes, Thats my mother! thank you!"  He hopped off her back and ran over to the silhouette of the mare who was calling.  "There you are Thunder!" Moondust walked away without saying anything, she didn't want to make conversation.  Eventually she disappeared into the fog.
  Acceptance