Obsidian Cloud (AKA Obby)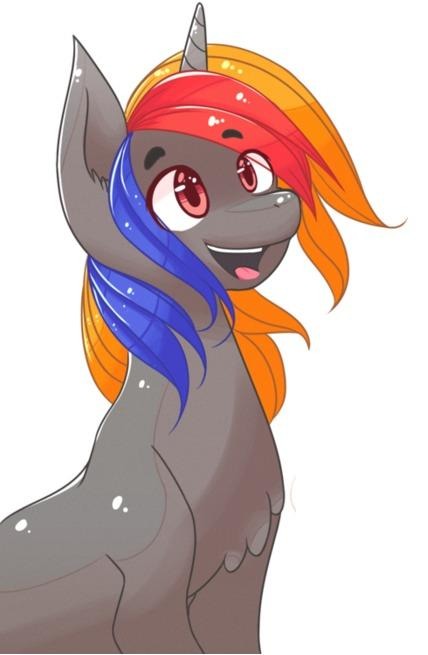 Gender: Male
Species: Unicorn
Mane: tricolor, Orange-Red-Blue
Tail: Tricolor, Orange-Red-Blue
Eyes: Dark Pink
Body: Moderate Grey
Cutie Mark: All black outlines, a horn with a wing on either side. (Special talent: wing spells and other flight-related spells)
Age (Baby, adult): Adult.
Personality: Erratic, cool and calculating when dealing with serious issues, but usually fairly emotional and unpredictable.
Likes: Flying, cuddling, and making other ponies happy.
Dislikes: Crowds, oppressors, and seeing ponies in need.
History: As an infant, his mother vanished, and just as he was entering puberty, he was forced to watch his father and brother get murdered in a particularly brutal manner, giving him some occasional problems with hearing their voices in his head. He has been homeless ever since, his sole goal in life being to enhance the lives of others, as he doesn't want them to have to live like he does.
Example RP segment: (Prompt 1. F=filly, and unmarked paragraphs are Obsidian.)
--------------------------------------------
F: -Sitting in an alley, sobbing very loudly-
-He trots over slowly, sits down next to her, and puts a hoof on your shoulder- Shh... It's okay...
F: -shies away fearfully, still sobbing- Wh-who are y-you?!
My name is Obsidian Cloud, but everypony calls me Obby. Who are you?
F: -she is still crying, but seems slightly quieter now that Obby is there- O-Ocean Breeze...
And what are you doing out here all alone, Ocean? Shouldn't you be with your parents? -he slowly and calmly reaches out a hoof towards hers, in an attempt to offer her comfort-
F: I was g-going shopping w-with my -sniff- m-mommy... we got lost in the store, and it's been almost an hour...
I have an idea to help find your mom. But, for it to work, you have to trust me. Okay?
F: O-okay...
-he levitates the filly onto his back, conjuring a pair of glowing, pegasus-like wings- Hang on tight! -He jumps up into the air, and takes flight, soaring above the rooftops- Keep an eye out for her, okay?
F: -Nods gently, whimpering a bit- I-I will...
-------------------------------------------
I hope that was enough there. If I need to add anything more, then I would be glad to.
Acceptance