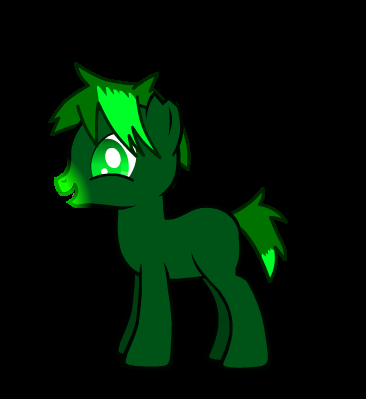 Toxic Fire
Gender:Stallion
Species: Earthpony
Mane: Spiked,darkgreen with a bright green highlight
Tail: Spiked,darkgreen with a bright green in the center of it
Eyes: Pupil and iris both bright green
Body: Fairly large and skinny.
Cutie Mark:
Age (Baby,adult): Young Colt 
Personality: Toxic is kind and loving but doesn't hang out with others much because his fear of being laughed at or teased, He tends to steal and is a thief.
Likes: Stealing, Climbing, Running, Dancing, Music and Staying Awake For Long Periods Of Time
Dislikes:  Being Caught, Falling Asleep (His Insomnia), Being Still (His ADHD) and Being Laughed at.
History: Toxic Fire was living happily with his family even tho he was bullied for having no cutie mark. Then his family started running out of bits and soon he lost his home and his father. All he had was his mother who was sick. He had to resort to a life of crime. He would steal bit pouches from other ponies. Than came the day he lost his mother. They were walking down an alleyway when they came across a mare that was injured. They helped her up and offered to help her to the hospital. Before they knew it, the mare lashed out with a knife and stabbed his mom right in the neck. Toxic Fire was shocked and just stood there staring at his almost dead mother. He backed away from her body and to the curb were he fell down sobbing. That's when Gaffey came along. 
Example RP segment:
Toxic Fire is walking down the road on a cold, rainy night when he sees a tavern up ahead. He runs to it and walks inside where he sees many different ponies around him. He walks to a corner and just sits there staring at the other ponies when a familiar pony walks up to him.
"What are you doing here little one?" the familiar face asked.
"You seem to have forgotten that I have no home..." 
"Doesn't mean you have to come to a place like this"
Toxic Fire stood up and looked at Gaffey with anger.
"Why don't you stop telling me what I can and can't do!"
"I didn't say you couldn't come in here. I just said it's not safe," Gaffey said.
"I'm sorry for getting mad it's just...hard."
Gaffey sat down with Toxic Fire.
"I know. I know."
They both sat in the corner watching the commotion of the tavern.
Approved :D
[Place the correct specified word indicating that you have read the rules here][/font][/color]