QuickStitch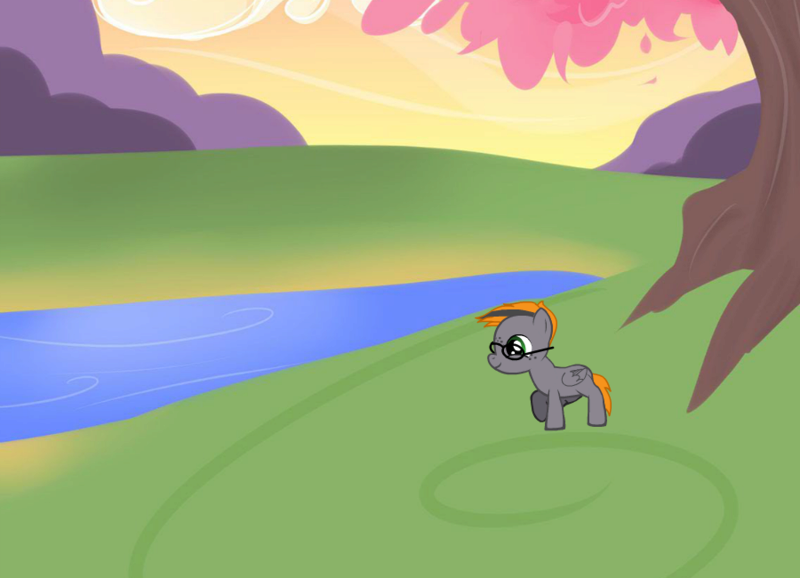 Gender:Male
Species:Pegasus
Mane:Blond with dark grey
Tail:Blond
Eyes:Dark green
Body:Light Grey, doesn't have much by definition of muscles but hey, he's still growing
Cutie Mark:Blank Flank
Age (Baby,adult):Colt (6)
Personality: Quick Stitch is a colt who loves all things sparkly and on trend. He's very shy around new people so you wouldn't know just what a chatterbox he can be until he's comfortable around you. He knows his interests aren't conventional and while he's happy with who he is, he also realizes that other ponies don't share the same mentality as his family and can be a bit insecure about it sometimes. Stitch is always eager to go on trips, excited to see and experience new things.
Likes:Fashion, shopping with his aunt, spending time with his dad and learning to sew
Dislikes:Bland colors, stripes with plaids, when things go wrong, disappointing people
History: Born on a sunny day, Quick Stitch, became WindSprint's entire world in an instant. His mother kept true to what she had told Sprint, she gave up her rights as the colt's mother and continued to pursue her career in the REG and has never made contact. He was raised for the most part by his father and the occasional nanny when it absolutely couldn't be avoided. His aunt Prima Bella also helped out as much as she could, taking time off to help WindSprint during Stitch's first few months  and visited when possible. Growing up as the son of an REG was pretty cool, Stitch loved to dress up in his dad's old uniforms and when he spent time with his aunt, he practically dove into Prima's costume chest on every visit. Now that he's a little older, Stitch has decided that he wants to take sewing lessons and start making clothes, all with his father's approval, honestly, how could WindSprint ever say no to him?
Example RP segment: (Refer to post below)
Quick Stitch laughed and tagged his friend, running away from her as quick as he could. He got a fair few feet away and looked back as his playmate paused to take a breath. He walked back over to her and gave her a light nudge.
"On second thought, let's go see if my dad will get us some ice cream," Quick said, smiling as his friend nodded back.
"I'll just wait here," The filly said, sitting down on the soft grass.
Quick gave her a nod and looked around before locating where his father stood, talking to another parent nearby and started over. He didn't get very far before he heard a mean voice and then crying, looking back over his shoulder to see a much older colt picking on his friend. His first instinct was to freeze, unintentionally drawing the colt's attention.
"What are you looking at?!" The colt snapped.
Quick gulped and his legs shook slightly, this colt was so much bigger than him and he was so shy. His eyes flickered to his filly friend and that gave him a little courage, she was way shier than him and needed his help.
"Y-You shouldn't p-pick on her, that's-that's not very nice," Quick stuttered out.
The bully started to laugh but quickly clammed up, starting to back away before running off. Quick looked confused but then felt a little proud, going over to his friend to help her up and walk to their parents, surprised to see WindSprint just a few feet away. When did he get here, oh well, Quick Stitch wanted to tell his dad about standing up to a bully.
"Dad, dad! Did you see? I was brave!" The colt exclaimed.
WindSprint gave his son a knowing smile and lowered his head to give him a brief nuzzle.
"Good job, but it's time to go now, we'll get a snack on the way to aunt Prima's," The stallion said and started herding the foals back.
Acceptance