CARPE DIEM
(Just a quick sketchy thing. Nothing too fancy.)
(Uncolored Carpe with press hat sketch! Updated 11/15)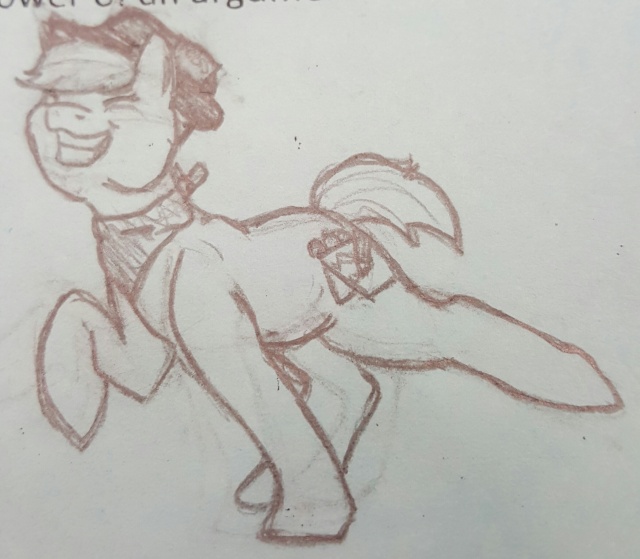 Gender:
Mare
Species:
Earth Pony
Mane:
Cropped into a near-pixie cut and styled over her face.
School-bus yellow
. (
#ffcc00
)
Tail:
Also cut short, slightly spiky. Same color as mane,
school-bus yellow
.
Eyes:
Like most mares, her eyes are large and expressive.
Calypso blue
. (
#336688
)
Cutie Mark:
An open, white spiral-bound notepad with a yellow pencil writing in it.
Body:
Her body is lean, almost too skinny and accented by long legs. Compliments her mane by being
orange-peel orange
. (
#ff9900
)
She is almost always seen wearing a dark brown press hat and a
Calypso blue
bandana around her neck, which matches her eyes.
Age (Baby,adult):
Adult (23 human years)
Personality:
Carpe Diem is anything but shy. In fact, being out and about and talking to interesting ponies is what she
lives
for. She will quite happily bound around town and interview any pony that seems cool to her. She is also very adventurous and curious, and loves to test her limits in any way she can. Sometimes her outgoing personality gets in the way, however, and she can be too impetuous, often getting herself in trouble. But give her a good story or scoop to put in her newspaper and she'll be there. No problemo. Although she does occasionally get caught checking out pretty mares...Oops.
Likes:
Writing, Ponyville, talking to ponies, making friends, going on adventures, her lovely hat, the
Ponyville Times
, mares, seeing exciting things (oh boy)
Dislikes:
Thunderstorms, getting yelled at, flying, getting ignored, bullies, thieves, ponies that are bad writers (ew, gross), not being accepted by society
History:
Carpe Diem was born in the splendidly shiny (albeit a bit dirty) Manehattan and grew up with her parents and twin sister, Noctem. The Diems were nice parents, to say the least, but preferred a more traditional family. They sent their twin daughters to the closest public school in town and of course were delighted when either of their children brought home little fillies and colts to play with.
Carpe had more friends growing up than her sister Noctem did, because, quite frankly, she was more personable than her twin. All of her friends seemed to be fillies, but that was't a problem. At least, not
yet
.
Everything changed when Carpe and her sister turned 13. The girls and their friends came up with the fantastic idea of starting a school newspaper. Carpe Diem had always wanted to write a newspaper. After all, she
had
been writing since she was just a little filly. As soon as the girls got the newspaper approved by the headmaster of the school, they set to work. Carpe was the journalist, Noctem the editor, and the other fillies were the photographers. The newspaper got fairly popular fairly quickly, which came as a very welcome surprise to the fillies. It was an even bigger surprise when, in the middle of an interview with one of the students, she got her cutie mark. It was a small notepad and pencil, the very symbol of a journalist. Carpe and her parents were delighted. She had found her true calling, and it wasn't something weird. They could live with a journalist as a daughter.
But Carpe's life took a turn for the worst when she was 16. When she was caught kissing one of her friends. One of her
female
friends. This was absolutely not acceptable. What were Mr. and Mrs. Diem supposed to tell ponies? How did you tell ponies your daughter was gay?
After much discussion and many, many tears, they finally decided that they couldn't live knowing that their daughter was like that. She had to go. But before they kicked her out of the house, she ran away herself. She knew she would miss her poor sister, but not her parents. If they couldn't accept her then she would find someone who would. Of course, being a young mare in Manehattan, alone, wasn't the best way to live, but she could manage. She was resilient.
Carpe Diem got a job as a young journalist at a small newspaper company in downtown Manehattan and made enough money to get food everyday. But it was a tough existence. The perky mare made friends with the local homeless ponies and ended up living with them in a sort of communal shack for the homeless. She lived there until she had saved up enough money to move to Ponyville when she was 20, having heard that it was a nice little town full of nice, accepting ponies. The mare then took the next train to Ponyville and has been living there ever since. She is also the proud creator, owner, and journalist of the
Ponyville Times
.
(Pony newspaper idea has been approved by Blind Side.)Example RP segment:
(Segment #2)
Carpe Diem sat at her desk, relishing in the
click-click-click-click
of the typewriter beneath her hooves. She was so absorbed in her work that she almost didn't notice the knock on the door. The mare looked up and puffed her mane out of her face before responding with a cheery "Come in, it's open!" in her clipped Manhattan accent.
A thin and rather nervous-looking colt poked his head into the room before sliding all the way in, crossing and uncrossing his front legs uncertainly.
"Uh...hi,"
he offered quietly, giving her a shaky smile. Carpe beamed back, leaning forward in her seat. "Howdy ho!" she chirrupped, noting silently that he was acting awful fidgety. "What brings you here?"
The stallion blinked and looked away from her expectant gaze, locking his own on his hooves as a blush crept over his cheeks.
"I, uh...I was just wondering, if...if maybe you'd like to go on a date? With me?"
he squeaked, glancing back up at her as he spoke.
Carpe listened to him patiently as her smile stretched wider, finally breaking in a giggle. "I'm sorry, but no thank you. I'm only into mares. But I'm flattered that you think so highly of me!" The colt's face fell and he nodded slowly, disappointment written clearly across his features. Carpe frowned slightly and stood up, walking around her desk to stand in front of him. "I can't date you, but I'd love to just be friends. Is that good enough?" The colt appeared to consider it for a moment before nodded again, cheering up a bit.
"Great! Now that that's settled, you're gonna have to run along now, because I've got a newspaper to finish. See ya around!"
[Acceptance]