Lemon Tie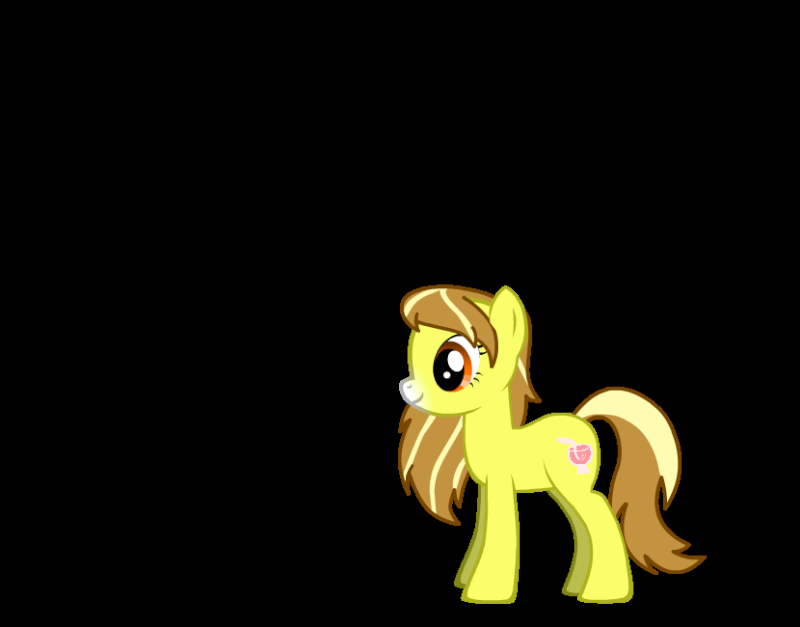 Gender:Female
Species: Earth pony
Mane: Long and wavy while spiky. Brown and very light yellow
Tail:Long and spiky while wavy. Brown and very light yellow
Eyes:Orange
Body:Cream colored while sort of skinny and with white on her nose
Cutie Mark: A punch bowl thingy maggiger
Age (Baby,adult): Adult
Personality: Lemon is a very kind and happy pony who loves to have a good time, at times she is flirty but that's just her messing around. She tries her hardest to make the best of a bad situation but is more of a listener then a talker. She always gives and never takes (except maybe bow ties X3).
Likes:Bow ties, helping others, foals,  both of her jobs, animals
Dislikes: Sad stuff, death,thinking about the past , rudeness, taking things
History: Lemon Tie was born to acrobats. She would sometimes even be in the show as a young filly. One day, on the way to the next place, there was a train crash. Lemon was the only one who survived, because she was in the last cart and was sleeping, all she heard was some loud crashes but since she's a heavy sleeper, so she didn't notice. When she awoke she was in a hospital and told what had happen. Being a little filly she started crying. Her uncle, who was a martial arts teacher, took her in as his own.
Years later, or as a teen, she started mixing drinks and making new combinations. She got her cutie mark from it too. She became a gym teacher and a bartender at night. Lemon lives in Ponyville and tries to make as many friends as she can. She sometimes helps in yoga classes and lives in a small apartment. She also has an obsession with bow ties, but that's because they're cool and she wears them everyday.
Example RP segment: #2
Lemon was working late at the high school, in her office. She had the night off in the tavern and needed to get grades put in. A coworker came in as she worked and she looked up to see him.
"Hello Mr. Johnson, how are you this evening?"
"Good, what are you doing?"
"Just putting in some grades, do you need something?"
"Would you... Like to go on a date?"
"I'm sorry, I don't believe we can... You can come by later though and we could plan a 'meeting' somewhere"
He chuckled as she gave him her address and trotted off as she got back to grading the children's performances in gym class.
Acceptance