name: Shadowblitz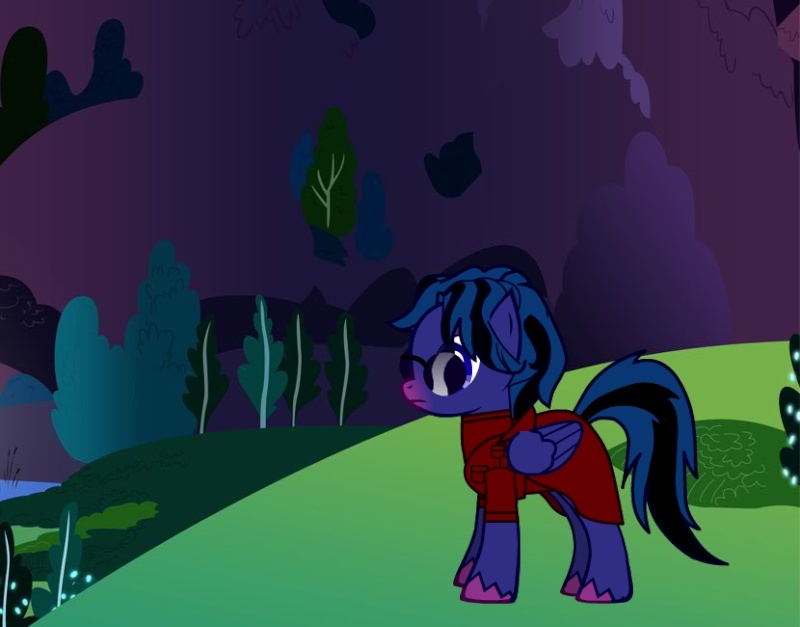 Gender:male
Species:pegasus
Mane:black and deep blue unkempt
Tail: unkempt
Eyes:dark blue
Body:average build
Cutie Mark: a trio of black bats symbolizing his talent of "enhanced senses" and flying ability during the night (not super powered mind you just fairly above average)
Age (Adult):27
Personality:Usually very serious when it comes to his work and daily life. he can be
very
shy around when near a mare that he fancies. he will stick up for anypony if he thinks they are being picked on and can be very defensive. very protective of his friends he will easily get into a fight about anything to defend them. for the most part he loves to have fun with his friends and colleagues. his favorite pass time is to fly around in the midnight air. he can be very cynical or sarcastic at times to anyone who bothers him or somepony else and he feels is beneath him.
Likes:darkness, quiet, flying, games, just sitting around and relaxing
Dislikes: bullys, fighting(ironic, eh?), swimming, loud noises, bright lights
History:born in ponyville he went to school at cloudsdale since he could fly around the age of 3 his parents had another filly name Silverstreak. six years later, when shadow was about 9 silver ran away from home because of an argument she had with shadow. shadow searched for her into the night and as it grew dark he realized it was getting easier for him to see and hear. he heard a soft noise and followed it to find his sister crying in an alley near the center of town. when he found her his cutie mark appeared depicting three flying black bats to go along with his better sight and hearing during the night. as he got older he began to leave the house more and more at night to revel in the night air. at age 20 he joined the Ponyville Night Watch and has since been watching over the town through out the night. Through out his training he has learned many different fighting styles mostly focusing on self defense or Incapacitation over lethality or injury.
Example RP segment: Shadow continued to walk down the dark street. He enjoyed the times when he could just take a walk with out having to worry about his patrols. as he walked a sound came to his ears. it was the sound of a filly maybe about 12. she was crying. shadow turned the corner to find a young colt standing over the young filly crying in the dirt. the young colt turned to face him and scowled. "what the hell are you looking at!" he growled trying to look menacing. "Who me? Oh nothing, just a young colt who doesn't know who he is talking to." shadow says glancing over the colts shoulder at the young filly. "And who evidently doesn't know how to treat a young lady." The colt look at him confused. "I recommend you leave my friend before something happens that your not very happy about." shadow says glaring at the confused colt. "wha-what! no way, i'm not scared of you. you stupid old crack! i can take you cmon!" the colt responded. As the colt turned to buck at shadow he sighed and stepped off to the side away from the foolish young foal knocking him off balance as the kick passed through the air knocking him to the ground. "very well then." His gaze sharpened and his anger came to the surface. "but i dont take kindly to bullies. After a few moment the colt found himself pinned to the ground shadow sitting bored on the squirming form. "now then are you going to be nice or shall we continue." he said to the colt in a tone that barely hid his anger at the acts the colt had committed. "yes! yes! okay fine! i'll go! i'll go! i'm sorry!" responded the colt fearfully. As shadow got back to his hooves the young colt scrambled to get away. Shadow walked over to the young filly and helped her up. "are you okay young lady?" he inquired. "uhm y-yes i'm fine. T-thank you" she said clearly still a bit shaken. "come i'll take you home" shadow said as they left the alley