Nightwhisper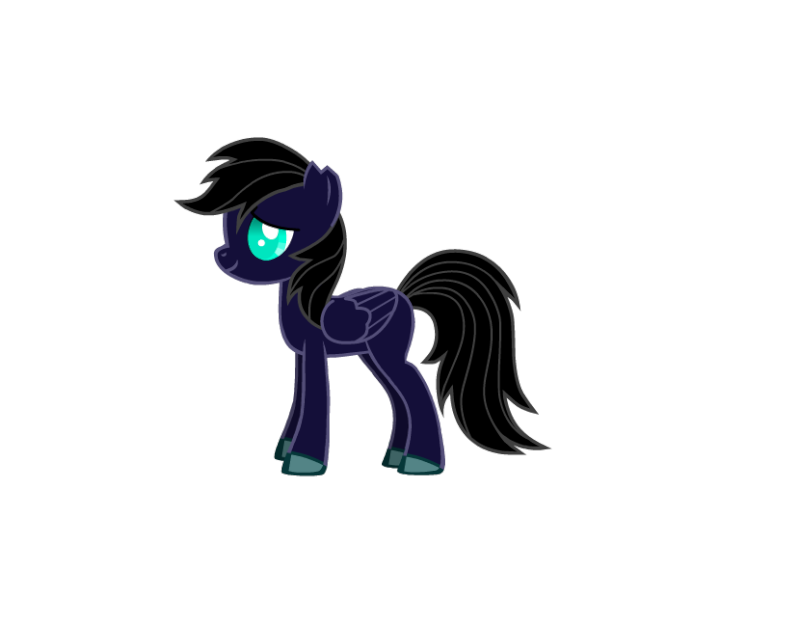 Gender:Male
Species:Pegasus
Mane:Black
Tail:black
Eyes:blue-green
Body:Very deep blue
Cutie Mark:a star behind a flying dragon
Age: young Stallion
Personality:Very shy, prefers to stay away from crowds. He is mysterious and keeps tons of secrets. He is often tired. He earned his cutie mark while he met a slumbering dragon in a cave and roused it. They became fast friends, for he makes great friends with dragons~ and often gazed at star filled nights, but Nightwhisper had to leave eventually and he left the dragon back to its slumber. He does not understand completely what his cutie mark is for.
Likes:To travel, but he is very motivated if someone will allow him to sleep, because he is often tired, and he likes making friends.
Dislikes:Heat. He doesnt like bright light either. But he hates crowds at the most, so he likes to stay in secrecy.
History: No one knows where he ever came from, but there are bits and pieces where he might leave where he came from. ' It was a cold and windy afternoon. Nightwhisper looked up at the cloudy filled sky. It was hard to tell if it was even night or day.He store at the vast landscape in front of him. It was plain and empty, as if nothing existed in this world except dry earth and rock. " Mother?" he asked into the empty world. There was no response. He took a step forward. " Father? " Again, all that answered him was silence. He started forwards, fright escaping him. He looked around. Why did he even bother looking? It was as if everything died. He flapped his wings in anxiety. He stopped suddenly and looked down at the red rocks. He saw splotches of what looked like wet earth. It let along a trail across the barren earth. His mind filling of hope, he followed the trail, leaving small marks of tiny hoof steps.
He followed the trail for three days,tiresome and thirsty. At last he noticed a slight difference. The air was starting to get chillier than before. He looked ahead of him and saw large jagged ice pillars rising out of the barren rock. He ran towards it, happy to see something other than nothing. He stopped in front of a border between ice and stone. he stepped onto the ice, feeling himself slip instantly. He struggled to keep himself steady, but the result was to fall onto the hard ice. He got up and slid across the ice, getting used to the strange ground. He slid around, laughing in happiness. He slid further into the icy territory, having for what seemed for him like ages when he had fun before. He then spotted something strange about the ground right up ahead. As he slid near it, he saw there was a massive pit straight ahead, a crevice. He struggled to stop himself from sliding into it, but as he drew near, it seemed his struggle was useless.He closed his eyes, seeming certain that he was about to meet his doom.
He opened them to find himself near the jagged pit, but he was stopped. He turned around to a much larger pony behind him with its hoof stopping Nightwhisper. " Hey there, now how did you get here?" the pony chuckled. Nightwhisper noticed his deep green fur and brown mane and tail. He had blue stripes scattered across his coat. He had nothing that made him a unicorn or a Pegasus, so Nightwhisper guessed he was an earth pony.He had a friendly attitude, and he was smiling. " I am Brawny Gunner " he said with his grin and helped Nightwhisper up. " I- I am Nightwhisper..." he introduced himself as Brawny Gunner started to walk casually across the slippery ice. " Come Nightwhisper, let me show you our herd. And you can call me Brawn for short." he said with a happy attitude. Nightwhisper struggled to stop himself from sliding, but he simply slid slowly across the ice after Brawny Gunner.
They stopped ( Nightwhisper with struggle) as they reached a clearing between large pillars of ice crystals. There was indeed a small herd of ponies in the clearing, with small amounts of grass in the middle of the clearing. Nightwhisper wondered where that grass ever came from. There were multiple holes around the ice crystals where he saw often ponies coming in and out of the holes. A young pony with a blue coat came up to them. " I see you found someone in the icy desert we have here! " he laughed with a strange look towards Nightwhisper. " Let me take you to meet our elder. " he said and let Nightwhisper across the clearing to a supposedly larger hole than the rest. He tried not to notice the ponies staring at him with a strange look like a foreigner.
He passed through the icy hole to a chamber with light strangely illuminating from the cavern. He looked at an elderly Pony with a silver frizzy mane and tail, and had a dull brown coat. The pony looked at Nightwhisper gruffly then circled around him, looking at his cutie mark. The pony got up and looked at Nightwhisper and with a scowl, he said loudly " Demon! Evil pony! Get him away from here! He will give us nothing but despair and hard life! We are fine having a life in a barren wasteland! He will be the death of us." he ended gruffly then turned around and sat staring at the chamber wall. " Oh, and you should break one of his wings, so he does not return here one day as an adult. Then we will have a problem." Brawn looked at the old pony angrily " What, i rescued him from near death and you are saying i should abandon him again into the desert? He will die there without flight! " he complained but the pony put up a hoof for silence. " Silence you imbecile , or should i banish you too?" Brawn gulped. " No.. " he said sadly then leaded Nightwhisper out of the chamber and across the clearing back to the entry. Nightwhisper looked dumbfounded. A demon? what could he mean? he wondered and Brawn sat at the entry and prodded Nightwhisper outside. " I am sorry, but this is all i can do, unless i want to die with you. I truly am. " he said with deep sadness. " It is alright, i know you cannot do anything else." Nightwhisper responded, then Brawny Gunner pinned Nightshade down, and pressed a strong hoof against one of his wings. Nightshade closed his eyes as pain surged through him as he heard a loud crack from his wings. He tried not to make a sound, but he let a pained groan escape. Nightshade got up a few minuets later and looked at Brawn as he had a sad look in his yellow eyes. Nightshade turned around and gave Brawn a slight smile,then headed out into the icy bareness, vanishing from sight with his right wing hanging from his side.
Nightwhisper opened his eyes with a yawn, much older now. he was in a plain full of grass under an apple tree. He looked beyond the hill he was residing on and said silently. " I finally found some town." he said to himself. " In The land of Equestria." '
Example RP segment no. 4: Nightwhisper looked at the Guardpony. He did not like this one bit. He tried to explain to the guard it wasnt him, but it felt like he had no choice trying to explain. He quickly dropped the weapon and leaped past the Guardpony. He ran and leaped, trying to flee. He personally preferred fleeing than trying to confront a vicious guard. The guard chased in after him, but Nightwhisper was fast and nimble, and dodged him after attempt, after attempt. Nightwhisper climbed onto a ledge quickly and leaped, spreading his wings in hopes of escaping, but his right wing failed of hold the air and dropped, resulting in Nightwhisper sprawling to the ground with a hard hit. Nightwhisper groaned as the guard seized Nightwhisper and took him away. Nightwhisper chuckled to himself. " Man i am a fool to think i could fly with a not healed wing."