Snapshot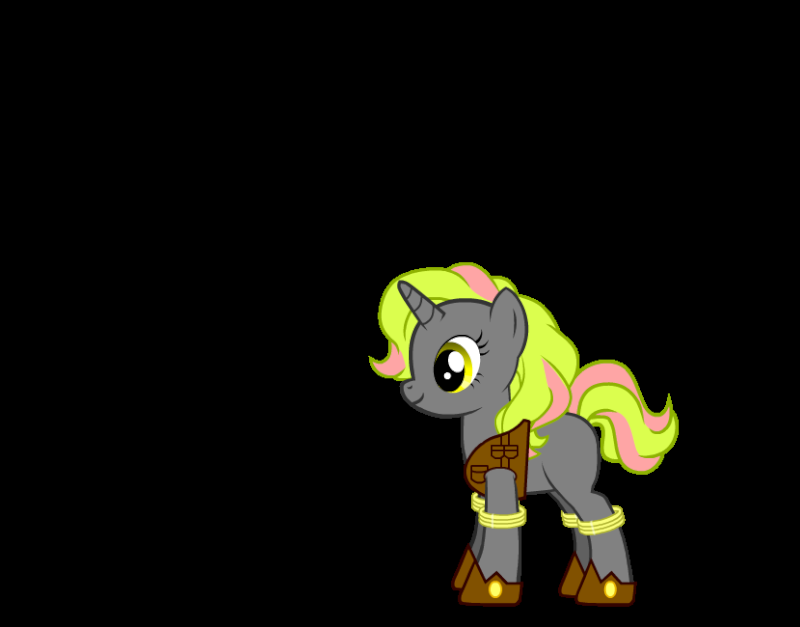 Gender:Female
Species:Unicorn
Mane:Yellow with pink streaks died in. Snapshot takes good care of it, and likes to style it.
Tail:Same colour as her mane. She takes good care of it.
Eyes:Yellow
Body:Gray, Snapshot is somewhat skinny.
Cutie Mark:A flash of light.
Age (Baby,adult):Adult
Personality:Snapshot loves getting the nitty-gritty on everything. She has almost no sense of private space, so she gets up close to whomever she is talking to. She always tries to find out secrets and what is really going on. Despite all of this, she is incredibly loyal to those she considers as a friend. She is also very blunt, always saying what she thinks needs to be said.
When Snapshot feels like she needs to fight, she resorts to sneakier tactics. She would use subterfuge and blackmail to harm her opponents. Luckily, she is slow to anger, so this rarely happens. Snapshot also likes to treat herself, going out to buy sweets, or styling her mane.
Likes:Taking photos, finding out secrets, writing, being with friends, taking hot baths,spending time with friends.
Dislikes:Liars, thunder, running out of film, stallions who are way to forward, tomatoes
History: Snapshot was born to two well-to-do ponies in Trottingham. Both her parents were hard working, and had little time for her. Because of this, Snapshot learned to entertain herself. She became somewhat self-absorbed, spending a lot of obsessing with her looks and looking after herself.She also found a love of reading. Because she was sheltered by her parents, she read a lot of newspapers to learn about the outside world and what she was missing.
Snapshot eventually got her first camera, and fell in love with it. She has scrapbooks upon scrapbooks of pictures she has taken. Much to the disappointment of her parents, who wanted her to get a "Real, hard job" she went to work with a newspaper, writing stories about what was happening. After a couple years, she had a falling out with her editor over an important political issue, and left. She then became a freelance journalist, giving her talents to whoever wanted it.
Example RP segment: A secret admirer confesses his/her love to your OC. Given your OC's personality, compose a brief narrative in which your OC identifies and addresses the situation.
Snapshot was fiddling with her camera, trying to attach the new lens onto the end. Next to her on the couch, a brown Earth Pony sat, his legs crossed, looking down at the floor. The pony was obviously nervous, but Snapshot seemed too busy with her camera to take notice. The pony gulped."Um, Snapshot?" He said, looking up slightly. Snapshot nodded in affirmation, "Yes?" She said, still working with her camera. "Well, I, um, I have something to tell you. I'm really, kinda, attracted to you." He said. Snapshot did not even look up from her camera, "Oh, I know. I've known for a while. Its quite obvious." She said. The pony went slack jawed, "You knew? Why didn't you say anything?"He asked. "Well," she answered, "I was waiting for you to be ready." Snapshot put her camera down. "Besides, I don't feel the same way about you. You are a great pony, and we're good friends, but thats it." Tears began to well up in the pony's eyes, "I, I understand. I, I, I gotta go home." With that, he stood up and left the house. Snapshot sighed, "Gee he is sensitive. I tried to let him down as soft as possible." She shook her head, finally fitting the lens on.