Grass Knot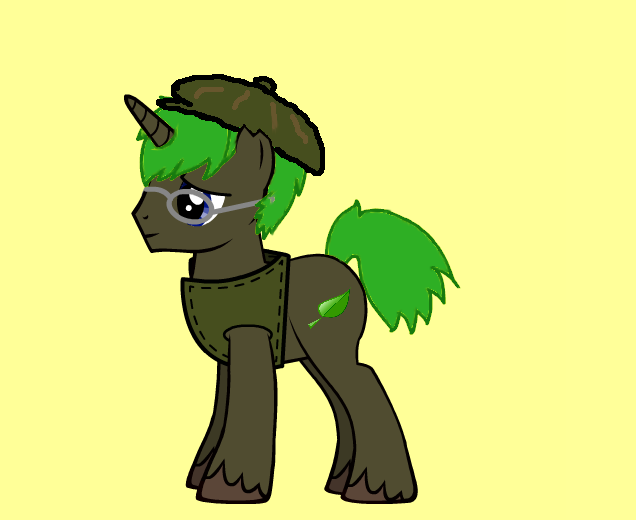 Gender: Male
Species: Unicorn
Mane: Green, Messy.
Tail: Green, Not as Messy.
Eyes:Blue,
Body: Brown and Brawny
Cutie Mark: A Single leaf
Age (Baby,adult): Adult.
Personality: Quiet, Not so Confrontational, Good Natured, Doesn't do too much, Honestly. He is a Private Romantic, but tries to hide that side of him.
Likes: His flowers, Doing good things, his Cat, And Mrs. Rose's Cooking. Trottingham in the snow is usually up on the list.
Dislikes: Veggies that are really woody, Being too hot on a summer evening, and Those Rude folk, 'specially when they pick on Good Ol' Mr. and Mrs. Rose.
History: Grass Root lead a pretty normal life. His parents are around, He doesn't have a dark past, And in all honesty, he is pretty boring. He grew up a lot around Iccy's Grandparents, Mr. Desert Rose, and Mrs. Liliah Cherrygrove-Rose, and due to that, Iccy himself. He now owns his Parents Old Flower shop, themselves having been retired, and he grows the flowers for them behind the shop itself, living in a flat above the Shop. His only companion is a Cat named Whiskers. He still helps out around the Rose Household.
Example RP segment: 1.
"W-W-Waaaaaaaaaaaaaaaaaaaaah!"
Grass looked up from a flower arrangement he was making for a wedding at the sound of the cry. He sighed, smiling a little, and headed outside. "Oi, what's wrong, wee lad?" He asked, Crouching down next to the crying Colt.
the Colt sniffled and looked up at Grass. "W-Well -sniff- my mommy a-and daddy a-and me were gonna -sniffle- go shoping, a-and, -sniff- Now I... I... WAAAAAAAAAAAAAAAAAAAAAAAAAA!" He cried, wiping his eyes of tears.
Grassy nodded, then smiled. "Ah Got just the thing for you, lad." he said, heading in, before coming out with a plate of cookies. "Ah've been saving these from Mrs. Rose, But I think we can Share them, Aye?" he said, putting the plate down and grabbing a cookie with magic. "Iff'n we wait here, Yer bound t'see Yer Ma 'n pa." he said, and sat next to the Colt and munched on Cookies.
Eventually, The Colt's Parents returned, And thanked Grass for sitting with the Colt, And soon departed, The Colt staying close to his mother's side.