Rock Ridge
Gender: Stallion
Species: Earth Pony
Personality: Rock is not a very bright stallion, usually preferring to use his actions instead of words to get his point across. He has come to follow Sterling Tempest pretty loyally. The only thing that may distract him from his tasks for Sterling, is his infatuation with Clair Voyance.
History: Rock Ridge was a criminal who escaped from the jail he was being kept in when the building was set ablaze. He quickly fled the city and came across the gypsy troupe. Originally Oak Roots refused to allow his entry into the troupe, but Sterling Tempest convinced Oak to allow him to come with them, citing that it would be helpful for the gypsies to have a little extra muscle.

Violet Thorn
Gender: Mare
Species: Earth Pony
Personality: Violet has learned that she can use her charm to get what she wants, and is not against doing so. She has developed feelings for Sterling Tempest and will usually do anything he asks, regardless of what it may entail.
History: Violet Thorn was a dancer at a saloon. She was abducted by a vigilante and taken out in the desert. The gypsy troupe crossed paths with the vigilante and Violet began to call for help. She was silenced by the vigilante who tried to play it off. Sterling Tempest along with a few other members of the gypsy troupe confronted the vigilante and chased him away, taking Violet Thorn in to their own.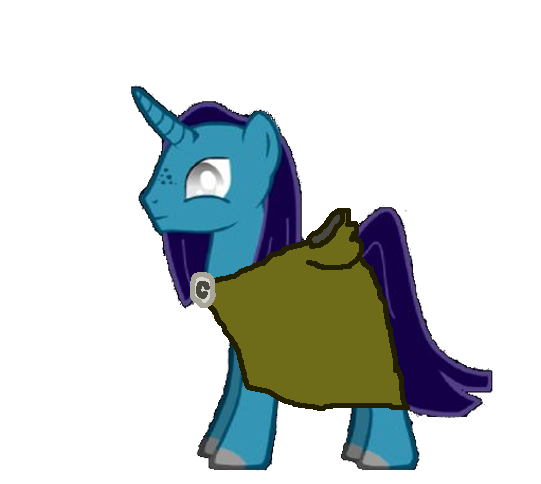 Hindsight
Gender: Stallion
Species: Unicorn
Personality: Hindsight never leaves the gypsy camp, usually never leaving his own shelter. He will only speak to those who are in need of his knowledge. He is often seen as the oracle of the gypsies. Despite being blind, Hindsight seems to have no problems finding his way around things, possibly having an extra sense from his unicorn magic.
History: Shortly after the blind young pony was adopted by the gypsy troupe, an filly suffering from amnesia was also brought in. The young Hindsight did not speak a word and coupled with his blindness seemed to just be a body following them. It was only the lost mind of Clair Voyance that got him to begin talking and for a long time she was the only pony he would speak to, making some to believe the two may have some kind of connection. As Hindsight grew older he began speaking to the others in the troupe, although only on rare occasions and it was usually only to offer some kind of deep advice. Clair Voyance has come to see him as an older brother, some believe there may be even more to that.