Rozencratz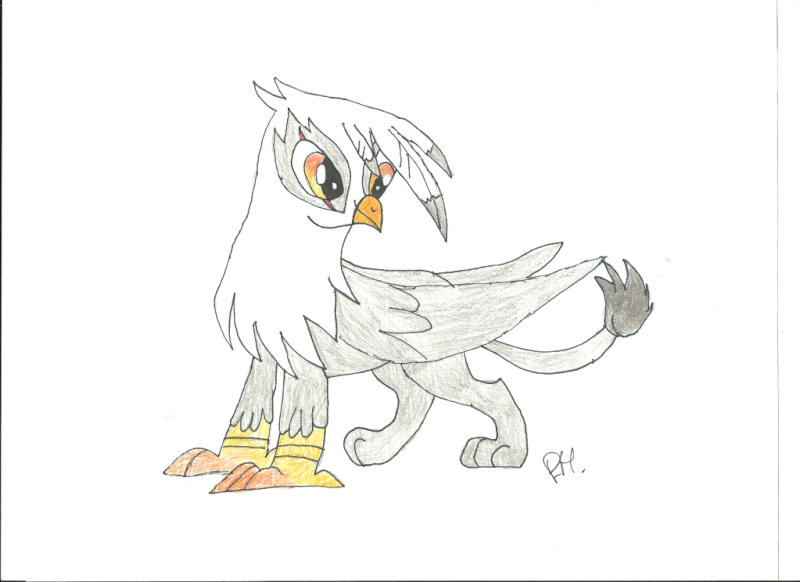 Gender:Male
Species:Griffin
Mane:None. The feathers around his head and neck are normal size and shape. They are pure white in colour.
Tail: A long, grey tail, the tuff of hair and the end being a darker grey.
Eyes: Piercing, golden eyes. He has a scar across his right eye, a reminder of his past.
Body:A well built body, average size. It is covered in light grey fur.
Cutie Mark: None
Age (Baby,adult): Adult
Personality: Rozencratz is very lighthearted. He sees everything as a joke, or an opportunity for a good time and a good laugh. He has a natural talent for turning dark situations around. However, he does no when to be serious, becoming almost stone cold and heartless when he does so. This is a throwback to his past as a soldier, as he is trying to be more lighthearted to make up for the mistakes he made. His dark past still affects him though, sometimes causing him to snap from time to time.
Likes: Jokes, flying, cooking, being active. His favourite meal is caesar salad and breadsticks. He also enjoys music from his homeland, and finds himself liking the company of a good mare.
Dislikes: Being forced into serious or dangerous situations, dancing, door to door salesmen, raisins
History:Rozencratz was born in the far far north, where snow falls constantly, and work is hard to find and hard to do. He was born into a life of responsibility. Being the eldest of 6 children, his first responsibility was taking care of his younger brothers and sisters, while his parents worked long hours to support the family. Eventually, Rozencratz left to find work, leaving the next oldest child in charge of the household. The griffin got into mercenary work, taking him across his land. He would always send a cut of his funds back to his family, but his work kept him from visiting.
His job took him into the maw of Hell and back, always managing to surviv by just a feather. The rich folks who hired his group would sometimes get Rozencratz to do many awful things. Although he knew these were wrong, his desire to help his siblings was so strong, he pushed his morals to the side, and did many terrible things. One day, his employer forced him to do an unspeakable thing, which changed him from that point on. At this point, Rozencratz snapped. He left his group right there and then, flying off and vowing never to return.
Rozencratz eventually settled in Equestria. He knew it was far enough away from his home and full of peace and happiness. He opened a bar in Appleloosa and has been trying to reinvent his life. He tries to forget his past, but every once in a wile it sneaks up on him.
Example RP segment: 1. A foal has lost its mother and is sobbing inconsolably in the street . Given your OC's personality, compose a brief narrative in which your OC identifies and addresses the situation.
Rozencratz walked down the street, carrying on his back a bag filled with assorted fruits and vegetables for his bar. He was humming a merry tune to himself as he went on his way. He was so lost in his own happy, little world that he barely noticed a small filly crying in the middle of the street. He stopped dead in his tracks. He looked left. He looked right. He assessed the situation. "Hmmm, looks like no parent ees around. The child moost be lost." He said quietly to himself.
Rozencratz walked over to the filly, determined to cheer the foal up and keep her entertained until her parents return. Rozencratz stood next to the pony, and the kneeled down to be at the same level as the child. "Are you lost?" He asked. The filly nodded, but still continued crying. Rozencratz smiled. "My name ees Rozencratz." He said, trying his best to sound upbeat. The foal continued to cry, almost oblivious to the griffin's presence. Desperate times calls for desperate measures. The griffin pulled off his bag,and produced some produce from it. "Do you want to see trick?" He asked, and before the foal could answer, he began to juggle the fruit. The foal stopped crying as hard and watched the griffin juggle some apples. After about a minute, Rozncratz lost his rhythm, and dropped the apples all over his head. He smiled weakly at the child, he squealed with delight at the sight of the big griffin making a fool of himself.
Very soon after, a very worried looking pony came running onto the scene. She scooped up the small filly. "Oh, my precious baby!" She said, "Mommy is so sorry!" The child smiled and pointed at Rozencratz. "He juggled for me mommy!" She said, completely forgetting the fact that only moments age she was lost and afraid. The mother smiled, said a quick 'thank you' to Rozencratz, and ran off. Rozencratz smiled and picked up his apples. He rubbed one on his plumage an took a bite out of it. Placing the other apples back in his bag, he continued on his way.