Knick Knack "Nicky"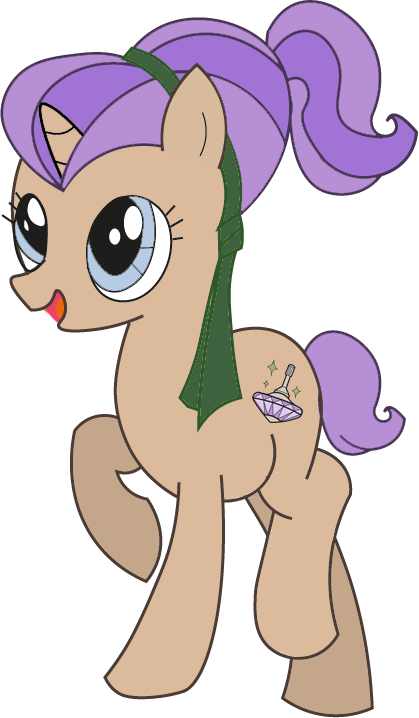 Gender: Female
Species: Unicorn
Mane: A fluffy poof of a purple pony tail, two shades of purple.
Tail: Another li'l poof in just the one purple colour.
Eyes: Pale Blue
Body: Soft brown.
Cutie Mark: A crystallised spinning top!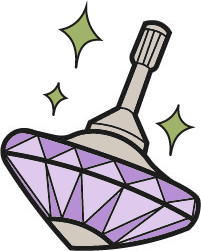 Age (Baby,adult): Adult
Personality: Knick Knack is quite carefree when it comes to herself, but deadly serious and focused when it comes to her work. She's quite happy to spend months on a particularly difficult item to figure out exactly what's gone wrong. She loves meeting new ponies and finding new things and is always good for a laugh. Past the surface layer of a salespony, though, Nicky can get a little shy- people don't get into deep conversations with her much. She's very easily distracted by pretty or just plain interesting things.
Likes: Collecting, obscure/old magicks, figuring stuff out, new things, old things, her waggon (home sweet home), helping someone find something new to take home with them, re-vamping/fixing things, meeting new ponies, stubborn problems to solve.
Dislikes: Rude customers who disturb the organised chaos of her waggon (shop as well as house) and thieves, having to throw something away or resign herself to not being able to fix something, arbitrary rules, leaving the friends she makes sometimes.
History:
In Equestria, there is a lot of magic, and a lot of ponies experimenting with a lot of magic stuff. Sometimes, it gets left behind, and that's where Knick Knack comes in. Nicky to those she runs into twice or more ("friends" she would call them) she has a passion for finding some of the discarded, 'broken' bits that other ponies would abandon, and trying to fix them up and sell them.
She's always been interested in collecting since she was a filly- little trinkets and funny spells soon cluttered her bedroom. She got her cutie mark one day after finding a spinning top in the bottom of her local playground- none of her other friends could get it to work properly, as it stubbornly refused to give more than a few half-hearted turns, but after listening to it and tapping it around a bit Knick Knack was able to give it the right spark and it lit up and began to twirl.
The self-drawn waggon she now lives in was a lucky find- after finishing school and deciding a serious magic school was not for her (with the blessing of her parents), she ran across it and spent a summer fixing it up until it now gleams. She's since been travelling Equestria, collecting odd bits and pieces and learning spells from whoever she can convince to teach her. She parks it wherever the wind takes her and opening up the doors to whatever a passing pony might like to collect for themselves. At this point, it's mostly novelties, or curiosities- a pipe that will make your dandelions swish to the music, a cloak that renders you invisible only some of the time, and some she keeps for herself- like the saddlebags that hold far more than you could logically expect it to, which is useful for those things she would rather not leave in the waggon unattended. Watch out, though- some of the stuff in there's a little dangerous. The last time somepony bought a watch, well... she didn't know it was only going to start wailing at
them,
now did she?
Example RP segment: A secret admirer confesses his/her love to your OC. Given your OC's personality, compose a brief narrative in which your OC identifies and addresses the situation.
It was only after they'd all left that she noticed the clean, white envelope, sitting alone amongst the clutter of her bench in the back of the caravan. She put down the old candlestick that was giving her so much trouble and picked it up, unconcerned until she saw that the back of the letter, which was sealed with wax in the shape of a heart. She got a tight, sinking sort of feeling in her chest. She opened the letter carefully.
Dearest Nicky-
No, she couldn't read any further- she put it down, folded it back up hastily, though still with precision and care, and stashed it away in an old box she rarely made new additions to. That was full of smaller things. Personal things. Saved away for... another day. Another place, away from here. She'd stayed in Trottingham for far longer than she usually stayed anywhere and Blaze Rod (a firey, friendly pegasus) and she had been getting closer and closer... but she could tell he had different plans for the friendship than what she did.
There was a gentle knock of a hoof at the door. She hummed anxiously as she walked over to answer it.
 "Blaze..."
 He cut across her. "Did you read my letter?"
 The hopeful look on his face made her heart plummet further. "No," she forced herself to say, cheerfully enough, "Not yet, but there was something I'd been meaning to tell you. I'm on my way out tomorrow."
 "Wh- What? But..."
 "Thanks so much for everything while I've been here, Blaze, it was a great help."
 The pegaus appraised her. He fluttered his wings once, twice, deliberating...
 "It's no problem, Knick Knack. Safe travels."
 And then they parted, and she closed the door on her life in Trottingham. Tomorrow the sun would come up and she would be gone.
[Acceptance]