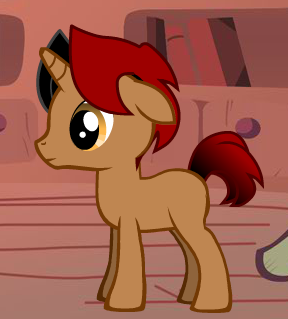 Name: Marcan Ellian

Gender: Stallion/ Colt

Species: Unicorn

Mane: Long hair with two side-swept bangs, cropped to about just above the neck. Red and black.

Tail: Short and shaggy, somewhat well groomed. Black faded to red.

Eyes: Hazel

Body: Slightly taller than most foals and he is underweight. He is skinnier than most.

Cutie Mark: None

Age(Baby,Adult): 9, Baby

Personality: Marcan is a very shy pony. He is also a book pony, mostly reading and referring to things book wise. He doesn't play many games and is not very athletic. When he does make friends he will do anything that is smart to keep them. He won't do outrageously dumb things. He is a very kind pony once you get to know him but he can't be intimidating or mean. He normally keeps his speech at a soft whisper and easily gets nervous and stutters a lot when confronted.
Likes: Books libraries, quiet places, friends, having fun, time to self
Dislikes: Loud ponies, mean ponies, confrontational ponies, athletics, going outside, storms
History: Marcan was born in Canterlot. He was an only child, and he liked it that way. He grew up reading books because his mother was a librarian. His mother was always coming home to see him but his father being a royal guard wasn't home much. Marcan was homeschooled because elf his mother's vast knowledge but soon went to school to learn magic. His magic is strong but he rarely uses it unless he is levitating things or trying to get out of a sticky situation. His mother moved to PonyVille for a library job and Marcan moved with her.
Example RP segment: A foal has lost its mother and is sobbing inconsolably in the street . Given your OC's personality, compose a brief narrative in which your OC identifies and addresses the situation.
Marcan trotted down the street levitating a few books to take home for magical studies when he heard sobbing. He turned to see a foal crying and he cautiously walked over.
"A-A-Are you o-k-kay?" Marcan said shyly.
"My mommy is gone and I don't know where she is I-I *hic* turned around and *hic* she was gone!*hic" The foal wailed and he looked around.
"Um, come with me and-and I think we can f-find her." He said and she looked at him with a smile starting to form through the tears.
She walked with him and halfway to the library the foal dashed off to a mare and the mare burst into tears of happiness. They spoke then the foal pointed at Marcan and the mare nodded.
"Thank you." She said and handed him a few bits then trotted off with her daughter.
Marcan smiled and turned back towards his house, to study.
Acceptance.