Victoria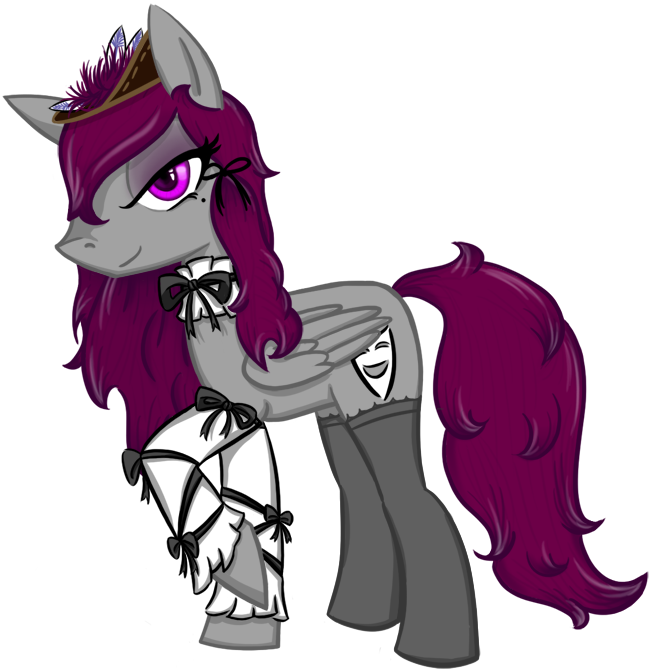 Gender:
Female
Species:
Pegasus
Mane:
Velvet with articulate curls and pony tails arranged by each temple; capped with a plumed Victorian outing hat
Tail:
Lengthy and precisely groomed, resembling her mane in style
Eyes:
Shimmering magenta, conducted with intensity
Body:
Sleek and silver, decorated with silk and black lace
Cutie Mark:
A Greek theatre mask
Age:
Young adult
Personality:
Victoria's attitude reflects that of the conversationalist. In practice, she is an eloquent orator with a quick and deliberate tongue. Whereas courtesy and mirth may charm her contemporaries, her true intentions often lie elsewhere. Bearing the notion that society is but a game, she in fact derives true satisfaction from exploiting the insecurities of those whom she encounters.
Likes:
conversations/gossip, involving herself in the affairs of her contemporaries, Romantic era classical, fine wine and hoof-rolled cigars,
Dislikes:
naïveté, purity, impetuosity, tenacity, direct interrogation
History:
Victoria was born in Prance to a bureaucrat and his bourgeois wife. In subsequent years, the family relocated to Canterlot, whereat her father governed the household with a stern and provident hoof. By contrast, her mother deflected all too many of her responsibilities in favor of petty indulgences. Little Victoria was quick to absorb their qualities; of her father, his pragmatism; of her mother, her elegance. All the while, ample finances ensured that the mare was thoroughly educated and raised in comfort. Now having left the Canterlot estate, Victoria wanders about Equestria, briefly fancying in this and that.
Prompt Response
A secret admirer confesses his/her love to your OC. Given your OC's personality, compose a brief narrative in which your OC identifies and addresses the situation.I love you
, read the scrap of parchment which lay at Victoria's hooves, unaddressed. Naturally, she was inclined to investigate.
Immediately apparent were the flourishes affixed to each letter in the author's haste. Deep in thought, she shuffled through the vast catalog of stallions whose personalities she had committed to memory in times before. It was unlikely, deduced she, that this stallion maintained any sort of institutional profession. Such ponies were more often than not bold and impersonal in the way that they wrote. In addition, she reasoned that the scribe in question was one whose establishment she had to have frequented. At last, from the contents of the confession, she concluded that this stallion could be none other than the owner of the local inn.
The mare proceeded to assess this candidate. What about this stallion truly appealed to her? Better yet, what had she to gain from his affections? He was not particularly handsome, admitted she. To be fair, her taste for others had long before been soured. He was an intelligent one, too. Victoria interpreted this cautiously - for quick minds did scrutinize as much as they impressed. Most importantly, however, she recalled that he was the owner of a tavern. A drink at another's expense and a place to sustain her through late evenings were sufficient reasons to reciprocate her 'love'.
Yes, she would visit the local inn. A drink would be splendid.