Arcane Brilliance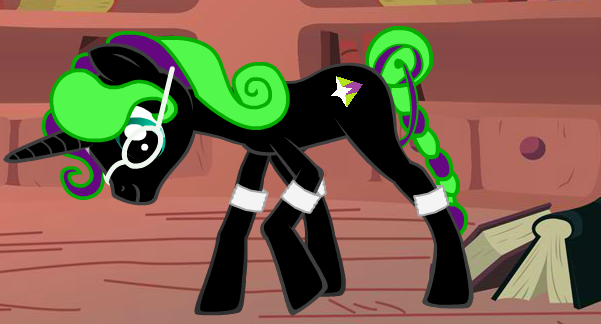 Gender: Male
Species: Unicorn
Mane: A soft green, striped with purple. It curves gently around his head, before puling back into a ponytail.
Tail: The same as the mane, soft green striped purple. His tail is braided.
Eyes: A deep blue, almost black.
Body: Black, with a white four-pointed star on his forehead. (The horn does not cover the star; rather, the star's top point end at the base of his horn. This is a natural fur-mark on his forehead.
Cutie Mark: The same white star as his forehead, with the light green and purple of his mane blazing out behind it.
Age (Baby, adult): Adult, 22.
Personality: Arcane Brilliance is the prime example of nerdy, but educated pony. He is a student of magic at the Gifted School, fully believing that Princess Celestia's School is the only decent place to learn magic. He is ambitious, his love for learning unquenchable. He is also the type of pony whom loves to help, and hopes someday to spread that love into a profession, such as a doctor, or healer.
Brill, as is his nickname, is also very feminine. Most ponies, when they meet him, see him as a mare, because of his soft looks and quiet personality. He never corrects them, just lets them assume what they will. Despite being an ambitious pony, Brill likes to keep to himself, when studying or even in his free time. He wants to help others, yes, but when it comes to his own time, he prefers to be left alone.
Likes: Arcane Brilliance loves his magical studies. He loves helping others, though also very much so enjoys his alone time. He loves music, and can often be found during his down time with his harp. He also loves reading, and practicing his magical skill.
Dislikes: Brill hates being bothered when he has specifically asked NOT to be bothered, especially if he is playing music. He does not particularly like "junk food" and sweets, this being the thing that leads most to his feminine figure.
History: Arcane Brilliance was born to a Unicorn, and an Earth Pony, both of whom lived in Ponyville. From a young age, Arcane showed the same aptitude for magic as his mother, Spell, and his magic-related name combined with his father's surname seemed to be a perfect match. He began to use magic, on his own, at a younger age than his mother even had.
Of course Spell Brilliance had gone to the School for Gifted Unicorns, and wanted her perfect baby boy to go there as well. There was just one problem, and was the one thing holding her poor baby boy back from his name. Baby Arcane was born deaf in one ear. Whenever someone stood to his left side, he simply could not hear them at all. As it was a birth defect, and not a wound he had obtained later, no doctor could heal it.
Arcane Brilliance had to learn to always his head to his left side, so that the right ear could hear it. Eventually, as he grew, this became second nature. His school teachers tried to compensate his disability, but his right ear had gotten so used to working harder to make up for the left, that he barely noticed it any longer.
He applied for the School for Gifted Unicorns, just as his mother had before him. He passed the entrance exam with flying colors, his test being a teleportation spell.
He began his studies, and has lived in Canterlot ever since. At first he was sad to leave his parents behind, but he got over the home-sickness by immersing himself in the studies of healing magics. It was then that he got his cutie mark. One day he had been practicing the spell to heal stress over and over again. He'd been practicing on his fellow students, whom were up late studying for an exam. He was just trying to help them, but he kept failing. And it was starting to get frustrating. Eventually the only pony left to try it on was a guard, sleeping outside. When he focused his energy, it suddenly rolled out of him in a green wave, relaxing and de-stressing everypony that had been in the room. When the wave cleared, on Brill's flank was his cutie mark, a four-pointed white star radiating purple and green. After this, he promptly passed out, from the sheer power needed to help so many students.
The only time his disability ever truly affects him now is when he plays his harp. Being a left-hooved player, sometimes the notes sound faded, or muffled, because the harp is one the side of his bad ear. It is also why he doesn't like being disturbed while playing. Sometimes he will be so focused on just hearing the notes clearly, that he will fail to even notice if a pony was to come into his room, let alone try to talk to him.
Example RP segment: 4. Your OC is framed by a robber who plants his weapon on him/her. A Guardpony threatens to take your OC into custody. Given your OC's personality, compose a brief narrative in which your OC identifies and addresses the situation.
Arcane Brilliance trotted down the hallway, his study books safely in a saddlebag draped over his flank. He was on his way to a test, to get his healing spell certification.
"Coming through! Excuse me!" Someone shouted, and Arcane was pushed roughly to the side, tripping and falling as another, robed pony slipped into a hallway to his right. He blinked from where he now lay, startled. Ponies weren't normally so pushy in the castle.
A guard walked up beside him, offering a hoof at first. Then the other ponies eyes widened. "She has a dagger!" The guardsman said, jumping back on soft brown wings.
Brill stood, staring at him. He didn't even bother correcting him on the gender, but what ever was he talking about? Then he heard something clank, as if it had been laying on his body when he fell. At his feet lay a long, serrated dagger. Which was
definitely
not his.
"Oh my word! No! I mean, I was just shoved over, by a pony! You must believe me! He went down that hallway!"
"Uh huh. Sure." The Pegasus made a move at him, and Brilliance dodged, beginning to run. It was the only thing he could think of, though it looked oddly suspicious. If he could just get to his teachers' classrooms, they could prove his innocence....
[Acceptance]