Shadow Jet (or just Jet)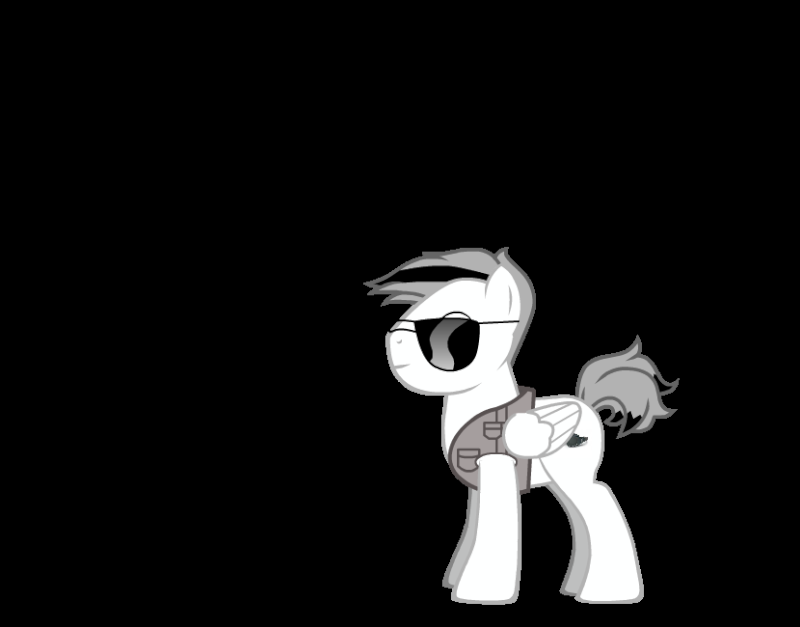 Gender:male
Species: Pegasus
Mane:gray with black stripes
Tail:same as mane
Eyes: silver
Body:in contrast white
Cutie Mark:twin daggers crossed
Age (Baby,adult): Young adult 20
Personality:sarcastic, hotheaded, crazy, fiercly loyal to friends family and people that are being bullied, when there his no oher way  he will fight for his honor, loves racing anyone anywhere anytime anyweather.
Likes:racing, the googles he wears on top of his head at all times, sleeping, hanging out with friends (and females) espically after a good race
Dislikes:being denied entrance to anywhere, the royal guards, bullies, the prison, cheaters in a race, someone (if he ever gets one) macking on his girl, music, playing intsraments
History: Shadow Jet had lived in a secluded little town to two pegusi parents, his father who raced for a living would often leave for a couple days and come back, while his mother worked as a doctor at a nearby hospital,so he practically got into racing watching it and participating in it. If he lost the next time he trained he would train harder. Then there was that one fateful night he got cornered by some bullies who were a lot stronger than him( which most people were at that time) then beat him called him names and caused him a lot of pain, so after this happens it goes on for a few weeks till Shadow decided enough is enough. He walks up to the three and says 'How about we settle this pegasi to pegasi. So I challenge you three to a race.' Since racing was a big thing where Shadow grew up the bullies immedeatlly agreed and they all agreed t would be the next day. So the four ,including the three bullies and Shadow, all lined then with a single loud 'GO!' the four flew off ducking and weaving and by the end of the race happened Shadow won since the each bet 50 bits Shadow took his winings and said goodbye to his parents and left for Cloudsdale.
When he reached Cloudsdale he decided to be a professional racer so he started racing and when racing he would put on dark goggles like how his shades are he would win a few then lose a few. In one of the races he won he barely one by a hoof and after the race he noticed he had a cutie mark representing the goggles that he had.
Example RP segment:5. Shadow Jet had been walking in the rain when he spotted the tavern with the lights on and the silhouettes of ponies laughing drinking an having a good time so he starts to walk towards the tabern when he reaches the door he walks in sits down and orders a drink and after maybe ten drinks he and all the other ponies are laughing singin. And haveingba good and when he downs he next drink he passes out on the floor and wakes up at dawn in one of the bedrooms at the tavern. (and scene.)
[Place the correct specified word indicating that you have read the rules Acceptencehere]" />