Flutters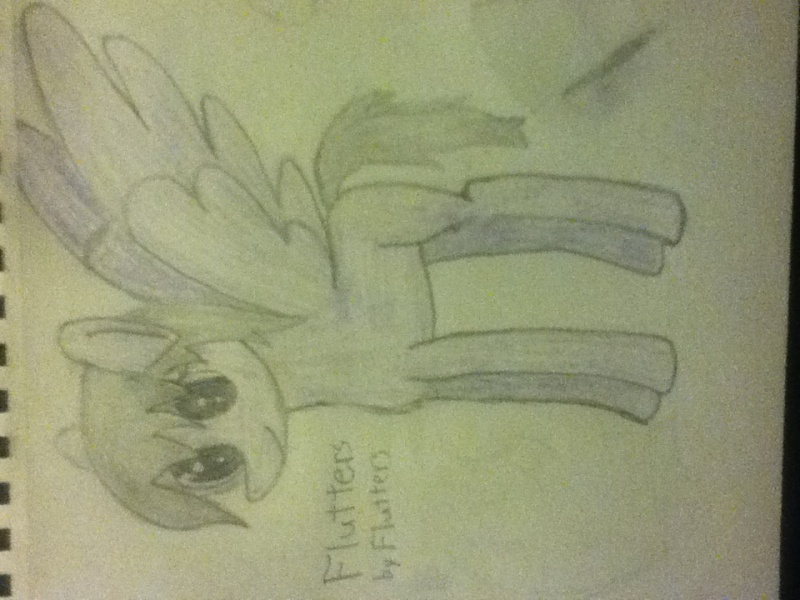 (I drew this. Anypony wanna re-draw
Gender: Mare
Species: Pegasus
Mane: Grey. Short and usually kept down to blow in the wind.
Tail: Grey. Short and usually kept down to blow in the wind.
Eyes: Purple
Body: A light purple.
Cutie Mark: A grey pegasus wing.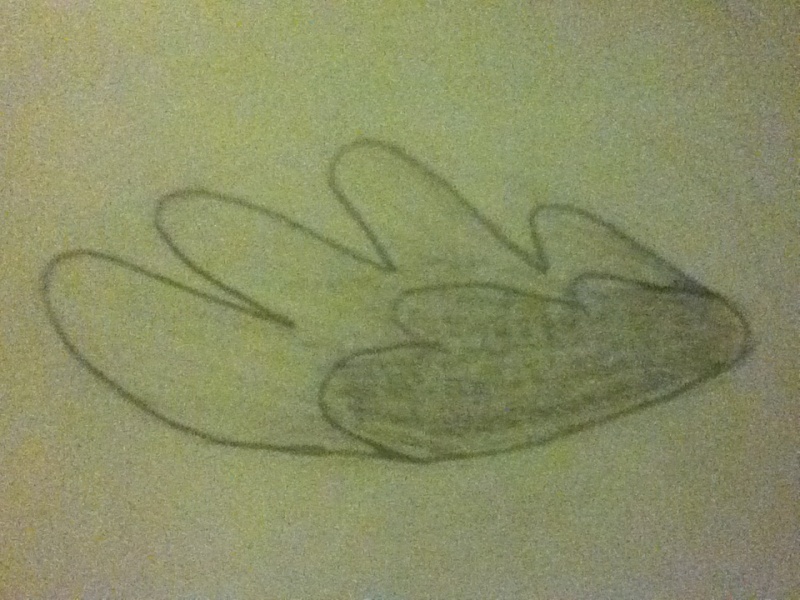 (I drew this too)
Age (Baby,adult): 16 (lives with mother)
Personality: Flutters can come off as distant and cold until you earn her respect. Once you have that she's an outgoing and cocky mare. She has a lot of patience and is tolerate of almost anything. But when you do manage to make her upset she may not talk to you for weeks or even months. She has a tendancy to hold a grudge when cross with somepony. (Although it's hard to make her cross with you.)
Flutters will never back down from a dare she thinks she can do. Although she thinks she can do way more than she actually can. This can get her into trouble sometimes and has gave her a hyperactive personality. She has a hard time sitting still and is often running or flying everywhere.
Likes: Spring, Flying, Speed, Being challenged, and sweet things.
Dislikes: Winter (because she can't fly in the winter), Being wrong, Staying still, Sleeping, and Having to refuse a challange.
History: Flutters grew up in Cloudsdale. She atended flight school and passed with flying colors.(no Rain boom pun intended ;D) Her family later moved to Ponyville where she currently lives in a small cottage with her mother.
Flutters always loved to fly. When she was little she would sit on the edge of Cloudsdale and feel the wind in her mane. She loved it! Her mother noticed her love of the sky and as soon as Flutters could flap her wings she was enroled in flight school. The day she compleated the final test was the day she earned her cutie mark! She was so proud of herself she couldn't help but take a victory lap. Not long after her mother pulled her out of Cloudsdale and down to Ponyville so she'd have more room to fly.
Example RP segment:
4. Your OC is framed by a robber who plants his weapon on him/her. A Guard pony threatens to take your OC into custody. Given your OC's personality, compose a brief narrative in which your OC identifies and addresses the situation.
Flutters was walking down the ponyville road when a stallion ran into her knocking her over. The stallion, who was the same color as her, stood up and grinned before sprinting off.
"What was that about?" She questioned as a gaurd ran around the corner and stopped her.
"Hey! You there! Stop!" He yelled at her.
Flutters puzzled. "Sure... But what for?" She said tilting her head.
"Don't play stupid!" He snapped pulling a dirty knife from under her wing.
Flutters gasped. She hadn't had that before. "What... Where did... How?" She questioned.
The gaurd frown. "Wait... Your a mare. Where'd you get this?" He asked holding up the knife.
She thought a moment. That stallion must have slid it there while she wasn't watching. "There was a stallion. He ran into me and ran off over there." She said pointing behind her.
"Thank you. Have a nice day!" He shouted as he sprinted off into the distance.
[Acceptance!]