Judge Saddle Rash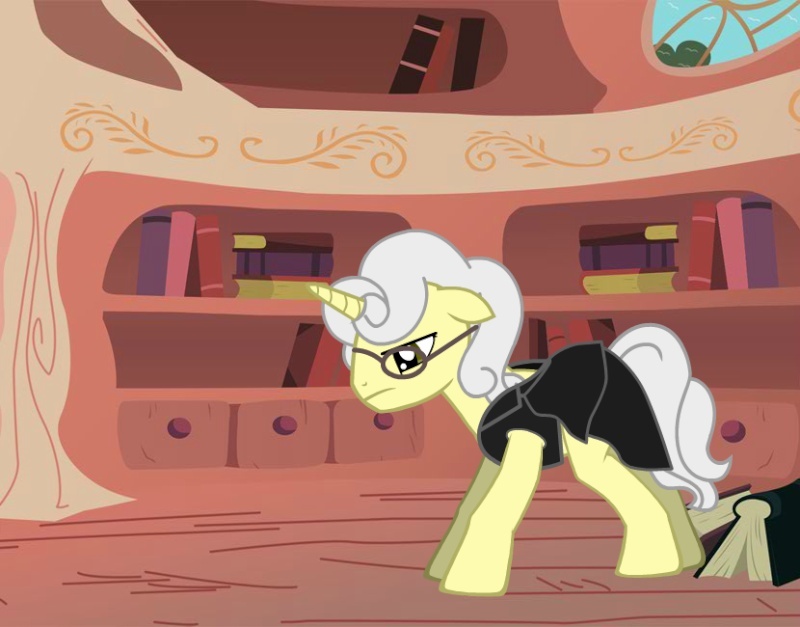 Gender:Male
Species:Unicorn
Mane:White
Tail:White
Eyes:Brown
Body:Cream Yellow
Cutie Mark:A gavel
Age (Baby,adult): Adult
Personality:The Judge is a restless and snappy geezer, he is always willing to look at every side of a story. But just because he looks at your side doesn't mean he has to like it! Patient to make a decision but never willing to change it once his mind is set, Rash is both respected and laughed at by others. Saddle Rash hates small talk and will never stick around to hear it.. He also has an abnormal obsession with silk, and almost always wears it...
Likes: Flowers, Silk, Guardponies, Silence, Reading, Manners
Dislikes: Small talk, Singing, Cake, Jokes, Stuttering, ANY misbehavior what so ever
History:Judge Saddle Rash comes from a long line of high class authority and political figures, and he is no exception being a court judge in Manehatten. Ponies have come to know The Judge as either an inconsolable doombringer or an unstoppable wielder of justice. 
When he was younger, his father put so much pressure on young Saddle Rash to aspire to something great and well paying. He was forced into becoming a doctor or a lawyer, and didn't like the fact that he couldn't make any decisions for himself. After many weeks of his dad criticizing everything he did, young Rash snapped. He raised his voice and put his hoof down. Little Saddle finally made the first decision for himself in his whole life. Rash's father realized that his son was very good at judging people and making important choices. Saddle Rash spoke to the local court judge and was taken into training. Not long after, his cutie mark had formed into a gavel. Since then, Saddle Rash has learned a lot to become the infamous judicial icon he is now.
Example RP segment:3. It is pouring rain outside. Your OC spots the light of a tavern up ahead. The tavern is filled with ponies that your OC doesn't know. Given your OC's personality, compose a brief narrative in which your OC identifies and addresses the situation.
"Oh dear" Judge Saddle Rash thought as he opened the door to the only shelter he could find. The tavern had to have at least 10-maybe 15 ponies he was responsible for incarceration. He sat at a table in the corner and hoped no pony would recognize him while he waited for the storm to die down.
He heard to his right: "I'd recognize that phony white wig anywhere!It's Judge Rashie!"
He turned toward the statement's source to see a dozen heads looking in his direction. he rotated his head and saw a dozen more.
"oh-oh my..."
The lot stood and approached Judge Rash. Not one of them had a a pleasant look upon their faces. Sweat began to pour from The Judge's brow and pooled underneath his chin.
An echo of cries resounded throughout the establishment "I'm gonna beat you so bad, your wig's gonna be bruised!" "No, I call first dibs on the ol' coot"
A fight had broken out amongst the ruffians. 
Rash used this opportunity of distraction to make his way to the bathroom. He hid in a stall until the rain calmed down. When the coast was clear, He snuck out of the bathroom window and ran back home to forget that frightening experience.
Acceptance