Gabrial Heart-Sheild
[img]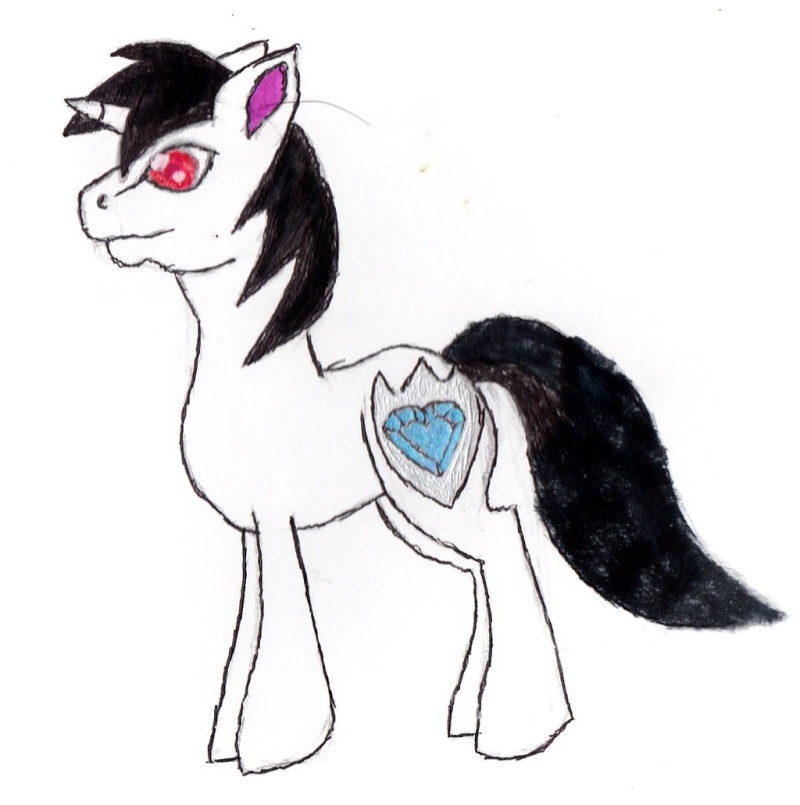 [/img]
Gender: Male
Species: Unicorn
Mane: Black
Tail: Black
Eyes: Red
Body: White
Cutie Mark: Heart within a Shield
Age (Baby,adult): Young Adult
Personality: Gabrial is the kind of person who would give the last two bits in his saddle bag to help a friend, a hard working colt, he would watch tirelessly over Ponyville, secretly hoping his efforts would be rewarded, but in the end if it's the right thing he will do so without question. Gabrial's heart is strong on the outside, but soft within, he truly believes that one day he will find a Mare that will make his heart complete, but till that day he depends upon his friends, and his duty to the Ponies of Ponyville and All of Equstria. There are few things that cause Gabrial angry, and the one thing that pushes him, is when someone thinks it's okay to push another around because they are believed to be weak.
Likes: Justice, honesty, the idea of true love, Duty, Music
Dislikes: Dishonesty, crime, betrayal, Chaos
History: Gabrial Heart-Sheild hails from a family of good hearted people, his father would serve as a guard in Canterlot, worked hard to protect and serve the populous as a whole, his mother would work in the local hospital, working hard to care for all the wounded and the ailing, their sense of honor and duty rubbed off on Gabrial, but he didn't want to sever in Canterlot right off the way,(but one day he desire to be Captain of the royal guard, to work closely with Princess Luna and Celestia) he then moved to Ponyville and begun to work towards to becoming a very upstanding guard. His every action is met with only the best of his abilities and only acts with the best intentions of his heart.
After some time in Ponyville, he learned something about himself.. The quite life was nice and all, But he needed action! HE needed to be useful, and being the Local gaurd who "only helps out off duty" Was driving Gabrial insane! HE reported to his superiror officer and and requested a transfer to Manehattan, Is SO was less then thrilled, and less then willing to send "New Blood" to a place so.. Jaded. But Gabrial insisted, and finaly was granted the request, and was warned, that if he could survive there, he could survive anywhere.
Example RP segment:
Gabrial smiled, it was his first time being away from Canterlot, but not only that, away from the watchful eye of his father, He was enjoying his little side trip to Manehattan, he wanted to have a little fun before he reported to his superior officer in Ponyville, he then heard a colt yelling at a young filly, Gabrial suddenly looks to the colt who then looks to Gabrial and says with a harsh tone," what're you looking at?" Gabrial scowls and speaks with his official guards tone, and says," Why don't you pick on somepony your own size?" He looks to Gabrial's horn, as Gabrial smirks, it glows a deep red, a shade a bit deeper than his eyes, the Colt looks at him and looks back at the Filly and says," You ain't worth my time." The earth pony was about to walk away, as Gabrial speaks with the same tone," You bother this Filly or in fact anyone ever again, and I'll be back to teach you some manners in the way your father should have taught you..."
The Colt looks back with a fear in his eyes, and runs off, Gabrial then places a soft smile on his face, and walks to the filly, and says," you okay Miss?" She looks at Gabrial with a bewildered look and asks," Why would you help me? You don't know me... I'm a stranger to you... "Gabrial laughs a little and shakes his head, speaking with a light tone, "Miss. It doesn't matter to me, you were someone who needed help, and I would have dropped my current action to aid you." She smiles as Gabrial smiles back and speaks with a calm tone, "Miss you have a fine day and be safe." Gabrial smiles and walks away, looking back to make sure she was alright, till finally she was out of sight, He smiles and says inside his own mind, Gabrial you did the right thing, and it's all you need. (Refer to post below)
Acceptance
(Id also like to thank Doodle Bug for the picture!)