Blueberry Pancake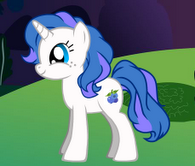 Species: Unicorn
Gender: Female
Mane: One tone of blue, with purple streaks
Tail: One tone of blue, with purple streaks
Eyes: Happy and light blue.
Body: The size of an average young teen.
Cutie Mark: a bunch of three blueberries.
Age (Baby,adult): Young teen
Personality: Very cheerful and happy, Blueberry loves to brighten up everypony's day. She is a great friend. She also loves being comfortable. She can't stand high-society ponies or fancy clothing. Blueberry is an okay student, not great, but not bad. Average is her life. But Blueberry strives to change that. She will be a great pony.
Likes: Being called Blueberry, the color blue, magic, comfy clothing, and her sister, Sunny Delight.
Dislikes: Sadness, overdramatic fashion.
History: Blueberry was an average pony who lived in Manehattan. She was happy in Manehatten, with lots of friends, but her parents decided it was too dangerous to live there. Her family moved to Ponyville because there was too much crime in the big city. Blueberry was not very happy about the move. She tried to get to know the Ponyville ponies and make friends, and she's still working on that!
Her cutie mark, blueberries, is not a whole bunch of em', it's just...blueberries . She was picking blueberries up in Manehattan when she got it, and her mother pointed out she got her cutie mark. It's as simple as that- it's not really much of a story, Blueberry knows, but that's how it happened.
Example RP segment:
A colt is bullying a filly in the Manehattan street. When Blueberry looks to him, he turns to her and snaps, "What're you looking at?" Given Blueberry's personality, she asked the colt to please stop. When the colt said no, she asked why. He said, "Bullying is what I like to do."
"Why?" she asked.
"Because I don't want to be bullied like I was in Ponyville."
"If you bully, you will never have friends," she said.
So from that day on, the colt made his first friend.
So on that day, the colt was invited to dinner at Blueberry's house. Finally! She had changed a bully into a friend! So every day, At the colts request, Blueberry would watch the colt to make sure he didn't bully anymore. And he never did.
Acceptance