ThunderCrush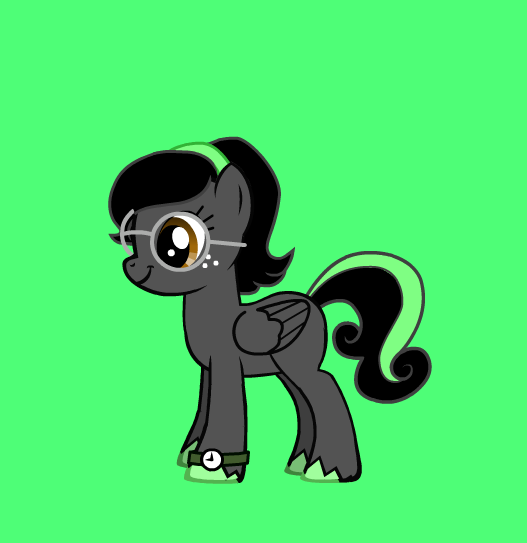 Gender: female
Species: Pegasi
Mane: Short, curly and black, sweeps over left eye and is held down by a light green headband
Tail: medium length, curly, and has a streak of light green
Eyes: big and dark brown
Body: short and well built
Cutie Mark: a compass with a lightning bolt as a needle
Age (Baby,adult): teenager
Personality:
ThunderCrush when you first meet her might seem a very quiet, awkward, and sensitive pony, you might even make the assumption that she is depressed. But after you get to know her she is very funny, sociable and caring. She can be very mean without noticing it at times but overall is a very loving, charismatic pony. Her friends usually call her Crush and tend to get annoyed by her tomboyish attitude and anger issues. Education is very important to ThunderCrush and you would most likely find her studying as she flies. Her favorite thing to do is fly through dangerous thunderstorms.
Likes: drawing, flying off into dangerous storms, rain, getting mud on her hoofs
Dislikes: ponies that make fun of her glasses, ponies that try to take advantage of her, liars
History:
ThunderCrush grew up living a life of wealth due to the fact her parents worked as the royal doctor and psychologist for Princess Celestia. She was always satisfied with her lifestyle but always had that rebellious side that very often got her in to trouble. One day as her and her mother took a flight through the clouds a tremendous storm had come by and they had to leave, however as ThunderCrush's mother called her over to fly back down, she was nowhere to be found. ThunderCrush's mother looked until the storm had gotten too strong for her to fly in, ThunderCrush in the end was not found. After a week ThunderCrush had returned home to her grieving parents with her new cutie mark and said she had been flying all over Equestria, looking for strong storms to navigate through. After that stage in her childhood she decided she wanted to live the life of a regular pony and abandon the life of luxury she grew up with. Currently she is living in a small house and works part-time in a bookstore. Besides the fact she lives in a middle class home, ThunderCrush still attends the most expensive academy in Equestria her parents are paying for. ThunderCrush wears glasses due to the fact that one night as she was flying through a storm, a piece of debris had rammed into her eyes and had to later receive surgery, permanently damaging her vision.
Example RP Segment 3:
The sharp rain drops stabbed at my sleek dark grey body as I trotted down the soggy dirt road. My silver framed glasses were covered with water droplets, making my view foggy and distorted. I was exhausted after my long day of navigating through the strong storms that hung over all of Equestria and I wanted to find a place where to relax before heading home. Through the pattering rain and the fuzzy world ahead I found myself coming across a warm amber light that reflected upon the wet earth. I looked up and identified the comforting light source, it was an old lantern that glowed softly above an old oak door. It had a dirty little window that held a sign from the inside: the Rusty Stallion-quality Tavern since 1788. I walked up the creaky wooden steps and stood in front of the door, I could hear the muffled sounds of spirited chatter and laughs that for sure were the outcome of countless bottles of alcohol. I brushed off the idea this could be a dangerous place after remembering I almost singed my tail off about 6 times today through all those thunderstorms and pushed open the heavy door. I was greeted with the small sound of a tinkling bell and the overwhelming aroma of spirits. I looked around, thinking I would possibly find one of my friends here, but only to disappointed; I was alone in the Rusty Stallion. I sighed and walked over to the bar, taking a seat next to a decent looking pony about my age. He was chatting with the bartender, sipping on what looked like some fruit punch. The bartender turned to me and leaned close to my face over the table with a smile, "What'll it be sweetheart?" he asked, his breath reeking with alcohol. "Ugh..", slowly moving away from the bartender's face, I darted my eyes over to the pony that was smiling at me. "I'll have what he's having" I spit out quickly. The bartender stepped back and got to work, "A'ight then, a shot of cherry flavored whiskey, you got quite a good eye for drinks lassie" he said over his shoulder. Immediately I jumped, not expecting what I just heard, "w-wait! I-I can't have alcohol! I'm only a minor!", the pony next to me put his hoof on my shoulder and said in a calming tone, "Don't worry about it hon, it's only a small shot, and we won't tell. Maybe you'll even like it!". I looked at him in shock, I wanted to get up immediately and leave, but his warm, trusting eyes kept me glued to my spot. The pony nodded at the bartender to continue preparing the drink and slowly moved is hoof from my shoulder to the bottom of my stool and slid me closer to him. My heart skipped a beat and I dared not to look at his face that I could sense was staring straight at mine. "OK sweetheart here you go, that'll be 5 coins, each additional shot will cost 1 coin" the bartender explained as he placed the transparent shot-glass in front of me, the blood red liquid swished around as it was calling me over to drink it. Before I placed the coins onto the table the pony grabbed my hoof, "It's alright hon, I got this" and he gave his own coins to the bartender. The old pony behind the counter grabbed the coins and before he walked out a side door, winked at the pony and I, now we were alone. I grabbed the shot-glass and held it near my mouth, thinking whether I should do it or not. The pony scooted closer to me and whispered in my ear, "Come on babe do it, maybe if you have enough we can have some fun in my pla-AHH!" the pony was squirming and wailing in pain as the pieces of glass, cherry whiskey, and his own blood were all over his face. I had slammed my shot glass into his left eye. He grabbed his punctured eye now flowing with blood as his right eye looked up at me in terror. I was now standing over him, eyes dilated, and boiling with anger. The once rowdy tavern was now dead silent and everypony had their attention on me. I shot up my head and glared at all of them like a rabid animal, the rest of the shot-glass that was still in my hand I threw to the ground, causing everypony to jump at the violent sound. Without another thought a stormed out of the tavern and flew back into the still rainy skies. "Well...wasn't that relaxing?", I mumbled sarcastically.
Acceptance